We all know just how important it is to invest in the right shoes, especially with high impact activities like running! For those who have feet conditions like plantar fasciitis, then the more important it is to know which is right for you. However, not a lot of people are really familiar with the condition and choosing the suitable shoes for runs.
That's why it's crucial for you to get the best running shoes for plantar fasciitis. But what are the top choices of all the many brands and models? Read on as I show you the best running shoes for both men and women!
What Is Plantar Fasciitis?
Plantar fasciitis is one of the most common conditions which cause heel pain, involving your plantar fascia. This is the flat band of the ligament which connects to the heel bone down to your toes. It supports your foot arch, and when strained, the plantar fascia would get inflamed, swollen, or weak, causing pain as you walk or run.
There are various causes for plantar fasciitis, such as:
Excessive pronation or your feet roll inward too much
You have flat feet, high arches, or suffer from tight cal muscles or Achilles' tendons
You pressure your feet for long periods of time, especially when on hard or rough surfaces
You're older (ages 40 to 60) and/or overweight
Your shoes are worn out or do not fit well
The common symptoms of plantar fasciitis are:
Pain when taking the first few steps on the morning or after sitting for long times
Hurts as you stand for a long time or climb stairs
The Importance of Using the Right Running Shoes
Even I used to wonder: What was so important about taking time to find the right running shoes? Spending quite an amount had me think about why it was needed. But once I found a suitable pair for my feet, I realized that there was so much to offer, which made running shoes an excellent investment.
Better Efficiency in Running
Quality running shoes are made to last and keep you free from pain. They are also lightweight, which has you use less effort and energy as you run, helping you break records and run faster or longer. That way, you get to improve your running and not have to worry about your shoes wearing out too quickly.
Protection and Support
The right type of shoes will be able to provide the better protection for your feet. This helps ensure that your feet are supported and free from pain, which is best from those with plantar fasciitis! Some even come with removable sock liners to accommodate your orthotics.
Fixes Overpronation and Supination
Overpronation means that your feet roll too far, which causes pain. Shoes provide ample support which prevents that risk, which really helps with plantar fasciitis. This is all thanks to the tougher material found inside the midsole, which adds extra support to keep your feet in place.
Comfort and Breathability
Good running shoes are made of the quality materials and cushioning, which keep you comfortable as you run. Besides that, they have the breathable upper mesh material, so your feet are well-ventilated. This prevents your feet from getting too hot and exhausted from the stuffiness.
7 Best Men's Running Shoes For Plantar Fasciitis 2022
What I love about the ASICS Gel-Nimbus Running Shoe is that it comes with all the advanced technology without the expensive price. It offers adequate cushioning, which is what I love most! I've never felt this comfortable with a pair of running shoes before, which customizes to your fit and keeps feet cool throughout the entire run.
With its cushioning system and its heel clutching system, it's really supportive and has given me the extra comfort I needed for the long run. These are what feels the most comfortable, making them my top choice!
Pros:
An amazing cushioning system to feel soft
It adjusts to your fit and feet shape
There's no hard impact on your feet as you run
Cons:
Its shoelaces aren't made of much quality
Takes some time to break into
If you're looking for something that looks strong and manly, then you'll like the New Balance 990v4! It's both the design and extreme quality material which can last for over 500 miles! It even has the supportive overlays and the breathable mesh upper, which has kept my feet comfortable and without much sweat even during the summer.
I highly appreciate how durable it is, withstanding even some of my most intense runs. It doesn't only hold up well, but it keeps my feet away from pain. All in all, a worthy price if you're focusing on breathable and durable.
Pros:
The shoe is extremely durable and made to last for a long time
Has a rugged design with colors to choose from
It's breathable upper and supportive overlays
Cons:
It may be too narrow for those with wide feet
The fabric might feel a bit baggy
If you like something fresh and cooling, you should consider the New Balance 1080v8. It has a seamless design and strong construction, but what I love most is its fresh foam that has cushioning that feels almost luxurious! I also really like its breathable material, keeping my feet fresh and free from heat pangs.
I never felt any discomfort as I run with these, with my feet feeling more cushion than the ground. The runs feel smoother and I'm able to increase my distance little by little without worrying about it wearing out or causing any pain.
Pros:
Made of fresh foam for amazing comfort and smooth runs
It's best for long-distance running
Well-ventilated keeps feet fresh
Cons:
Shoestrings may cut through the top hole
Not as stable compared to other shoes
If you're on a budget but don't want to scrimp on quality, then the ASICS GEL-Exalt is best for you. Even if it doesn't come at the most expensive price, it still offers the simple and necessary features one needs in a running shoe. It's supportive enough for those with plantar fasciitis and made with supportive overlays, as well as adequate cushioning and a plush tongue and collar.
It's helped with overpronation, being the right balance of flexible and stable. Though there are no frills to it, the shoe does a grab job at such an affordable price.
Pros:
Prevents overpronation with enough stability
Great in relieving pain from plantar fasciitis during runs
Comes at a very affordable price
Cons:
Runs small, need to order a size up
Its durability is still questionable
I highly appreciate the Mizuno Wave Rider because it runs true to size while fitting snugly to your individual foot shape. Its made of the unique technologies from Mizuno, giving it the 3D fit and better underfoot comfort, which has you run longer and faster.
The shoes even have the better toe-spring and sock liner design, which gives you the improved bounce as you take off while giving enough support as you strike your foot. Even after a few runs, my feet have never felt better and there's no need to ice it as much!
Pros:
Improved toe-spring and sock liner for resiliency and more bounce
Has effectively helped in reducing pain from plantar fasciitis
It's true to size and provides a snug, 3D fit
Cons:
It may be too wide for some runners
The shoes aren't the best for very intense activities
I can see that this is really the shoe to help lessen the pain but increase your performance as you walk. Whether you're going for casual walks or brisk ones for exercises, this is a cool shoe to invest in.
When looking for something you can use for either speed or long distance running, the ASICs Gel Kayano can do it all. I'm in love with its versatility, as I can use it in various situations such as walking, running, and even other strenuous activities. Not only does it stay strong and free from easy wearing, but my feet still stay stable and supported. You can see and feel how light the shoes are, and it's still incorporated with the various technologies that soften impact and keep your feet running smoothly and pain-free.
Pros:
It's lightweight and can be used for fast or distance running
Versatile and strong, more than just a running shoe
Great responsiveness and flexibility
Cons:
Might not feel as cushiony as other shoes
Not as attractive compared to others
While the Hoka One One may seem like such a pricey shoe, you definitely get more than what you pay for! I'm surprised with its tall heel, but it's what provides the excellent cushioning which feels very plush and supportive. Even with the extra cushioning, it's still lightweight, offering a secure fit and better run without feeling heavy.
I also really appreciate the breathability and comfort it provides. Though it may not be the most pain-relieving, it does the job and you can see that it will last for a very long time, which is a must for its price!
Pros:
Very strong and durable, made for any type of run
Additional cushioning to keep feet free from pain and discomfort
No need to take time to break into the shoe
Cons:
It comes at a very expensive price
The sole may detach from intense runs
7 Best Women's Running Shoes For Plantar Fasciitis 2022
When you first see the ASICS Gel-Noosa Tri, the first thing you'll notice is its attention-grabbing design. It comes with such pattern and colors that make it something you'll want to wear even outside the tracks! But what makes it the best for me is its support and breathability.
The shoe feels very breathable and keeps my feet cool and free from pain. Even as I run, I'm able to continue long distances without much of the pain and discomfort. And did I mention that these shoes are glow in the dark, making it perfect for night running?
Pros:
Popping design and glow in the dark
Better traction in all types of surfaces, even wet ones
Has the amazing breathability and support
Cons:
Some people might not appreciate the design
Takes a few walks and jogs to break into the stiffness
Those with plantar fasciitis really need something that's both pain-relieving and supportive. That's where the ASICS Gel Venture comes along, with its superior comfort made for even the toughest trails. It even comes with a removable sock liner to accommodate your medical orthotics, making it extra supportive with all the comfort.
I highly appreciate its original and classic GEL cushioning system, which has absorbed shock well and puts on smoother transitions as I run. I'm free from pain and I'm happy with this, with every run turning even better as I break new records.
Pros:
Gel cushioning system for shock absorber and smoother transition
Excellent support and keeps feet free from pain
Very comfortable with the removable sock liner
Cons:
Made better for trails and not tracks
The sizes run large
I'm in love with the bright design of the ASICS GEL-Exalt, but what I love more are its breathability and comfort. It offers the breathable mesh with the padded tongue and collar, which accommodates your fit. Furthermore, it's made for neutral runners or to fix overpronation, thanks to its extra stability.
The shoe comes with the Trusstic system, helping reduce the weight while maintaining stable feet as you run. It also has a unique midsole, which helps you bounce back as you continue running. I've has zero problems with this shoe and while it's not the best, it's pretty good!
Pros:
Has the extra breathable mesh
Helps fix overpronation and improve stability
Better bounce back while running
Cons:
Might be a bit heavy for some
Some complaints of getting holes
The Hoka One One Bondi have that snug and secure fit which keeps my feet stable. This is thanks to the 3D Puff Print Frame, which gives the combination of lightweight and stabilized fit for any runner. It even comes with the very breathable mesh upper, which keeps my feet cool and dry regardless of where or how I run.
The shoes really absorb the shock as I run, though it may feel stiff some days for no reason. It's a hit and miss with these shoes, though if you don't feel as much pain and focus more on secure fit and ventilation for your feet, this is best for you.
Pros:
Has the 3D puff print frame for a more secure and snug fit
Helps prevent pain during most runs
Breathable mesh upper that effectively keeps feet well-ventilated
Cons:
Some complaints of stiffness
Not the best for long distance running
The New Balance WW847 isn't just a walking shoe, but best made for light jogs and runs for those with plantar fasciitis! It has a high arch and stability, perfect for those who have low arches or overpronation.
When I began using it, there was no need to break into the shoe, as I immediately felt its effects. My feet were cooler, I had NO pain whatsoever, and the construction holds up with whatever I do, making it worth more than just a typical walking shoe. Would definitely recommend if you're not doing very intense runs or marathons!
Pros:
Extremely comfortable and supportive
Felt no pain at all with high arch support
Gives an extra spring in your step and can withstand long walks and use
Cons:
Not the best for speed runs or marathons
Has a wide toe box that may not accommodate narrow feet
I am in love with the Saucony Kinvara's sleek and seamless design. It has the gradient colors, which makes it such a bright, eye-catching shoe you'll love to wear even when out of the treadmill. Furthermore, this has the excellent soles, offering midsole cushioning, a removable insole for preferred comfort, and the flexible outsole to keep your feet moving well while keeping stable.
The shoes move seamlessly with my feet and my runs only keep getting better after each use. From its design down to its excellent sole quality, I believe it to be worth the price.
Pros:
Moves seamlessly with better flexibility and stability
Beautiful and attractive gradient designs
It's best made for long-distance running
Cons:
The toe box is smaller than other series
Some complaints about the laces creating pressure points
And to cap it all off, we have the Mizuno Wave Rider Running Shoe, which is best known for its strength and resiliency. It's a very simply designed shoe that comes at an affordable price for a Mizuno, and what you pay for is its strength. I love its consistent fit and the fact that it holds up regardless of how long you use it for.
While there still is a bit of stinging around the feet as I run, it's no major complaint. With its better durability, I believe it's a good price and it still does the job in keeping my feet relatively comfy.
Pros:
It comes at a very affordable price
Extremely strong and durable to last for long times
Great for narrow feet and those with high arches
Cons:
The shoes are not the best in pain relief
May be too narrow for some runners
How to Choose the Best Running Shoes For Plantar Fasciitis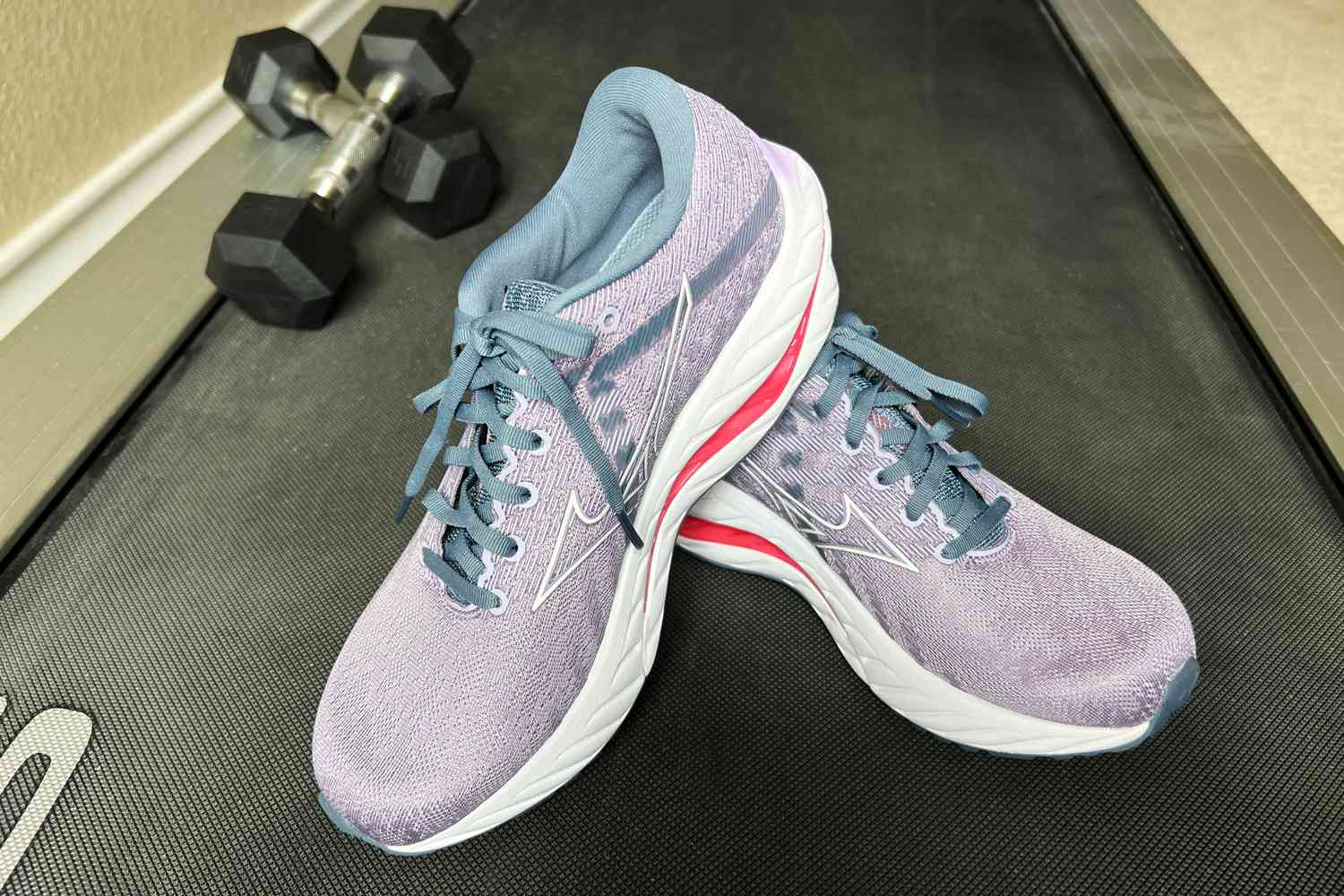 Now that you're more familiar with plantar fasciitis and the benefits the right running shoes have to offer, how can you select the best ones? Here are the important tips and factors to consider when investing in the appropriate running shoes specifically for you:
Better Arch Support
The first thing to look into when choosing great running shoes is the supportive arch. This reduces overpronation and the tension on your plantar fascia as you run! Once you see that the shoes offer arch support, look into the next important factors.
Adjustable and Adequate Cushioning
Your shoes should be at the right size, with adequate cushioning, but just enough that it feels good for your feet. It should protect and comfort your feet, absorbing its impact as you hit the ground when running. Adjustable cushioning may be beneficial for control over your personal comfort.
Removable Sock Liner
For those who require extra support ago lessen the pain of plantar fasciitis, your doctor may require you to wear orthotics. That's why it's important to look for running shoes that have removable sock liners to accommodate such medical orthotics, which reduce the condition's symptoms!
Improved Flexibility
Though your get should stay in place and fit snugly in your shoe, it should bend gradually while offering a bit of resistance. This has you follow a better running position while protecting your feet. With better shoe flexibility, you're able to run without feeling pain.
Quality Materials to Last
Make sure that the shoes you have are also made of the quality materials which can last for over 300 miles. That way, you get your money's worth and have no worry about going having to replace them after a few runs.
Tips on Running Better With Plantar Fasciitis
Besides running shoes, you also have to ensure that you know how to properly run to feel less pain. It's still possible to run normally even with plantar fasciitis, as long as you follow these helpful tips:
Make sure that you warm up thoroughly before running, which wakes up your muscles. For those with plantar fasciitis, you should follow stretches such as calf raises, ankle circles, and flexing your toes
Stretch your legs and feet thoroughly, especially before and after runs. This reduces the pain you experience, or prevent flareups from happening
If ever you feel like there will be heel pain after your run, elevate your legs and ice it for ten minutes or so. Avoid running too soon if it still continues to hurt, make sure you have rest days every other day!
Avoid running on hard surfaces or uneven terrain, rather, go easy with your feet and run on soft and even surfaces. When adding distance to your runs, do so slowly rather than put on too much pressure, especially avoiding bounces which cause strains!
Frequently Asked Questions: Running Shoes and Plantar Fasciitis
Now that you're familiar with plantar fasciitis and learning how to select the best running shoes for it, what else do you need to know? Here are more frequently asked questions to get more information on the condition and running shoes:
Can I Heal Plantar Fasciitis?
Plantar fasciitis can't be healed permanently, though there are ways you can lessen the pain, or even diminish it. Some will require medications or therapy, such as physical therapy, night splints, or orthotics you can place in your shoes. As long as you follow your doctor, there's no need to worry about any intense pain you may experience.
What Are Other Ways to Treat Plantar Fasciitis?
Besides the right type of shoes, you're able to treat plantar fasciitis and reduce its pain by maintaining a healthier weight, which minimizes the stress on the plantar fascia. Go for a diet of anti-inflammatory foods as well, and if required, lessen the intensity of your activity and exercise.
Is It Possible to Run With Sandals?
While we can run with sandals (and there ARE sandals made for running!), those with plantar fasciitis should NOT use them. This is because it has none of the support you need, which can cause your condition to worsen. Stick with running shoes, and try minimalist shoes if you want more of the barefoot feel.
When Should I Replace My Running Shoes?
Depending on your shoe brand and strength, the average time to replace it is after running between 300 to 500 miles. This also depends on how you care for it and where you run. You can tell if it needs replacement if you feel a bit of pain or discomfort you haven't felt before, or if the shoes already wear out with tears and the like.
How Can I Care For My Running Shoes?
When you want your running shoes to last and perform well for years, you have to learn how to take care of them! Here are some helpful tips to care for your running shoes:
Take your shoes on and off properly to prevent it from wearing and tearing too quickly. It's best to loosen the laces and use the tongue when placing your shoes on or off, which lessens the stress and bending
If your shoes ever get wet, avoid putting it under direct heat or on a heat source. Rather, loosen its laces, take out its insoles, and air dry
For those who run almost every day, it's best to have another pair of running shoes to alternate using them. This helps give your shoes the time to relax and dry out, which lengthens its lifespan
Store your shoes properly, in a cool and dry area. Don't place it in a bag or near pets and children who can destroy it!
Don't put the shoes inside a washing machine or dryer. Instead, hand wash it using scrub brushes, mild soap, and cold water
To learn more about how to clean running shoes properly, here's an informative video to help you out:
Wrapping It Up
If you're planning to take up running or activities that require intense walks and runs, then you need the best shoes for it. Not only will these keep your feet comfortable and well-supported, but it also encourages support that your feet need in order to keep it free from pain or injuries. Plus, great shoes add a better style and improved runs to last for years to come!
Of all the different types of shoes tried and tested, the best one for men goes out to the ASICS Gel-Nimbus Running Shoe. What makes it the best is its fantastic combination of style and advanced features which help keep your shoes well-supported without the discomfort. The seamless construction also keeps your feet free from irritation and looks great as you run!
As for the women, so many will love the ASICS Gel-Noose Tri, which has a unique and beautiful design that will have people look! Your feet will also enjoy the shoes, which has the breathability from its quality mesh upper and the support system your feet has to prevent pain and injuries. All in all, definitely worth the price for both shoe models and you can enjoy any of them for years to come.
Hopefully, this article on the best running shoes for plantar fasciitis helped you find the right ones! So don't wait any longer and look into any of these shoes now.
If you have any questions or want to share your tips and experiences on the best running shoes for plantar fasciitis, then comment below. Your thoughts are much appreciated!