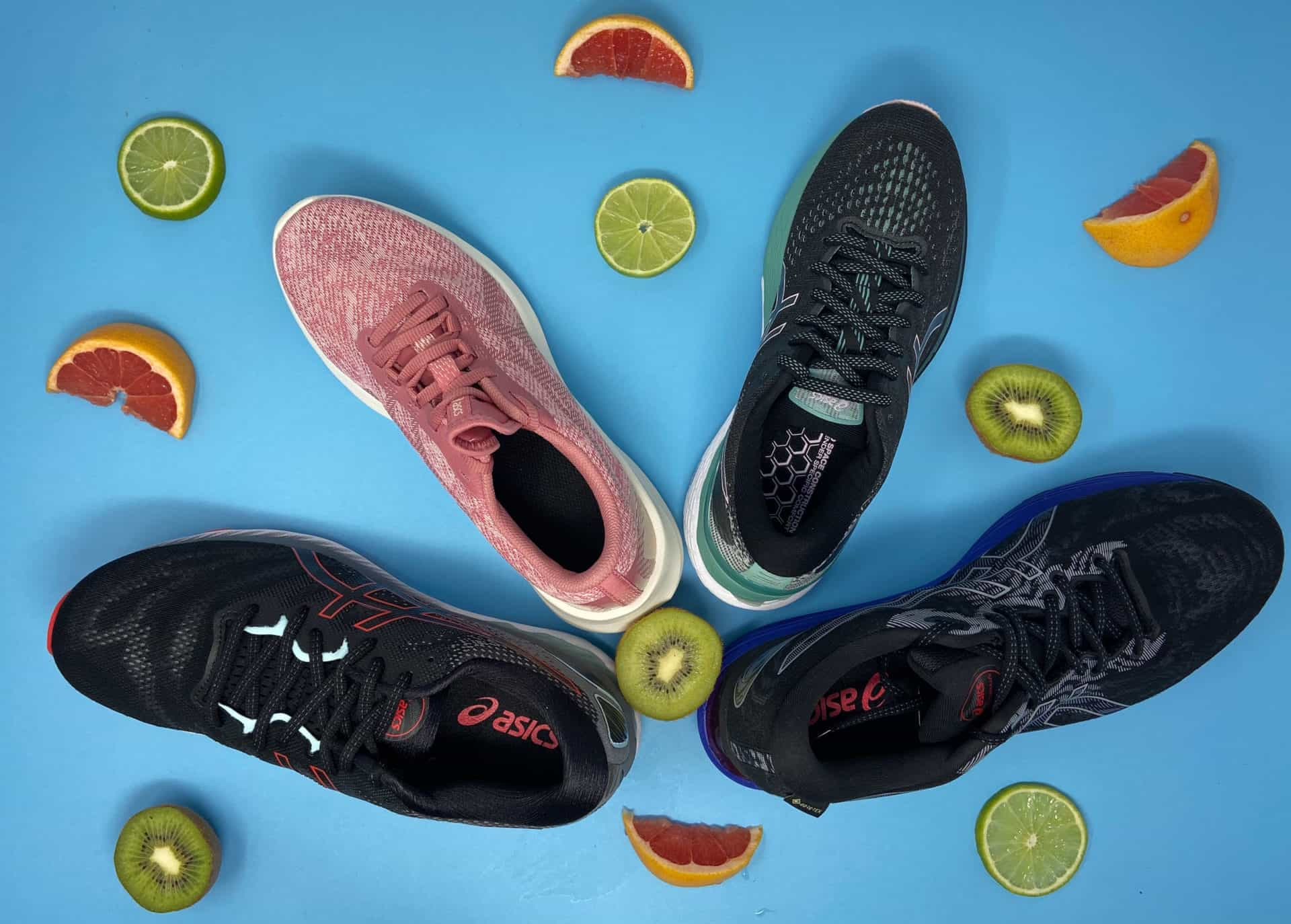 Asics is one of the leading shoe brands on the market that offers a vast lineup of running shoes for men and women. Streamlined with modern technologies to ramp up the comfort, durability, and custom support, Asics renders an exceptional quality that becomes more than just hype and fad but an ideal option for footwear.
Therefore, what is the best Asics running shoes? How should you choose the perfect Asics running shoes for your feet?
With the overwhelming options for Asics footwear, finding the ultimate pair of running shoes may not seem so easy like a breeze. That's why we've compiled a roundup of the best Asics running shoes for men and women along with the in-depth guidelines. Keep reading!
6 Best Asics Running Shoes For Men 2020
For an airy feeling that soothes your feet with ample support and comfort, Cumulus 20 boasts its lightweight and comfortable design. It has optimum toe box and decent arch support for runners with normal pronation or neutral gait and also for people with high arches. The Impact Guidance System technology also bolsters the natural gait cycle, allowing you to run according to your pace.
What's also great about these lightweight running shoes is its efficiency in shock absorption. It is streamlined with GEL cushioning system that attenuates the impact on every stride so you can move and transition in multiple planes seamlessly. The design showcases a contemporary vibe but also understated that you can even wear them on semi-formal occasions, especially when you have them in black!
Pros:
Comfortable and lightweight
Attenuates the impact on every stride for an efficient transition
Enhances the natural gait cycle for seamless movement
Provides ample room for the forefoot for a comfortable fit
Cons:
They do not provide enough support for overpronators
Runs a bit narrow
2. The Shock Absorber and Bouncy Ride: ASICS Gel-Nimbus 21
When you're after efficient responsiveness for your normal arch, the Gel Nimbus 21 is probably the ideal fit for your feet. It exhibits the Gel Brand technology that renders superior shock absorption so you can go on a seamless and comfortable ride. Because it optimizes the impact on every move and transition, you get to run on your own pace at all times.
Another fascinating perk of wearing these comfy running shoes is the cozy and snug fit. With the revamped Gel Nimbus fit and premium mesh material, it adapts to the contours and movement of your foot, allowing you to indulge in a comfortable ride every time you run. As it does not restrict your footwork, you'll have adequate space for your forefoot to move and your toes to wiggle!
Pros:
Ideal and comfortable fit for people with normal arches
Absorbs shock efficiently for a comfortable and bouncy ride
Renders cozy and versatile fit with enhanced Gel Nimbus fit and mesh upper
Provides excellent grip on the foot
Cons:
Feels a bit narrow in the midfoot
The soles feel hard
If you often struggle with your flat feet or high arches, you may need to gear your feet with proper footwear, just like this GT-2000 7. Coming from the superb lineup of Gt-2000 series is the GT-2000 7 that provides custom fit that adapts to overpronation. It is incredibly light and breathable, allowing the feet to move comfortably on every stride.
Another impressive attribute is the structural support from the Duomax Support System technology that keeps the shoes lightweight and airy. As it distributes the force as you hit the running surface, you get to revel in a responsive and stable ride. The solid support on the heel box along with the Flytefoam Lyte technology attenuates impact or shock on every move or transition and thus provides efficient performance while running.
Pros:
Optimum support and a custom fit for runners with high arches
Provides efficient shock absorption to provide a stable and bouncy ride
Incredibly lightweight and breathable
Responsive and provides solid support on the heel box
Evenly distributes the force for a more comfortable ride
Cons:
Runs a bit narrow in the forefoot
The size runs small
For a great value that does not break your bank, the Gel Contend 5 must be the perfect pair for your budget. While it lines up along with the low-cost choices, the quality does not wane down, particularly in terms of flexibility, comfort, cushioning, and support.
Runners with wide feet and low arches or flat feet can take advantage of its snug and custom fit that essentially adapts to your foot's natural movement, leaving with utmost comfort when you run or stand on your feet all day. Crafted with athletic mesh and Ortholite sock liner, it renders ample moisture management so your feet would feel cool, fresh, and dry at all times. It also wards off bacterial growth and unpleasant foot smell.
Pros:
Provides exceptional comfort and support for people with flat feet
Has adequate space for toe box and midfoot area to accommodate wide feet
Keeps the feet fresh and dry with the breathable athletic mesh and Ortholite sock liner
Absorbs impact efficiently on every stride
Versatile; adapts to the natural gait cycle
Cons:
The top seems slightly higher than usual
Beyond the high style and superior comfort lies the exceptional qualities that stabilize the gait and reinforce the overall support, especially if you have low arches or flat feet although some have also found Gel-Kinsei 6 beneficial for high arches or overpronation. Innovatively crafted with refurbished upper structure and Fluidride technology, it ensures superb performance while making you feel like walking on clouds!
What's also highly commendable about this style and construction is the Gel cushioning which has also been present on many Asics running shoes. But with the Gel-Kinsei 6, you can revel in comfortable running and stable ride as the Gel cushioning does the job to reduce the impact and efficiently absorb the shock. Besides all the superb function and features, you can also complete your athletic look with the bright and flashy hues or neutral tones!
Pros:
Stabilizes the gait cycle, particularly for runners with low arches and high arches
Showcases refurbished upper structure for durability and comfortable feel
Features Gel cushioning that absorbs the impact for a seamless transition
Has removable insoles
Works great as athletic shoes for a variety of sports
Cons:
Runs half size smaller
May not provide adequate support for neutral runners
If you're after excellent stability and support for your flat feet, overpronation could probably be the least of your worries with the Gel Foundation 13 running shoes. It highlights the cushioning and solid support and hence, lends a durable and versatile structure for your foot. With its roomy toe box, runners with wide feet won't have to struggle too much with pain and restricted movement.
The insoles are cozy and the fit feels snug, allowing you to move and run on your pace with superior comfort. Equipped with rearfoot and forefoot Gel Technology Cushioning System, you can switch between multiple planes and toe phases with ease while comfortable and efficiently reverting to your pace. Such a technology attenuates the impact on every stride, preventing injuries and thus, allows you to move swiftly and perform efficiently.
Pros:
Provides great stability and support for people with flat feet
Has roomy toe box which is ideal for people with wide feet
Cozy and snug fit
Has Gel cushioning system for efficient shock absorption
Has Maximum Support Last for custom orthotics and athletes with large builds
Ideal for heavy runners
Cons:
May not provide a comfortable fit for runners with narrow feet
6 Best Asic Running Shoes For Women 2020
For feet that struggle with under pronation, the Gel Venture 6 is intricately designed to provide a custom fit, cushioning, and support. It accommodates feet with high arches and renders sufficient support and comfortable fit, allowing you to run, move, and transition at your own pace and gait cycle. With the Trail Specific Outsoles, you can depend on efficient and sturdy traction even when you go trail running or you run downhill or uphill on all types of terrain.
What's also great about these running shoes is the therapeutic relief it lends, especially for those who suffer from plantar fasciitis and other issues related to high arches. It showcases a roomy toe box, has deeper tread, and has more padding on the heels. And in regards to sizing, the Gel Venture 6 is true to size. 
Pros:
Renders custom fit and excellent support for high arches
Provides relief and solid structure to manage pain on the foot
Roomy toe box
Has sturdy traction that is suitable for all types of terrain
Ideal for trail running
Cons:
May not be an ideal fit for people with narrow feet
If you've been searching for decent arch support, you might want to check out the Gel Venture 5. It works great on low and high arches and therefore, allows runners to move or transition according to their gait cycle easily and efficiently. It is very comfortable and the cushioning technology does a great job to keep your feet pain-free when running.
When you have issues such as bunions, bad knees, or even plantar fasciitis, these running shoes are a great running companion whether you take on loose dirt trails or concrete surfaces. They also excel in short and long distances. And because it is wide and the toe box is roomy, you'll have ample space for your feet, allowing you to move comfortably and freely at all times.
Pros:
Wide and roomy toe box
Provides decent arch support from low to high arches
Has cushioning technology that relieves foot pain and also provides excellent shock absorption
Works great for people with bunions, bad knees, and plantar fasciitis
Suitable for concrete surfaces and loose dirt trails
Cons:
Seems to have insufficient traction on wet laminate floors
The Gel Kayano 21 is all about dynamic support and custom design for overpronators. It has a plush fit and unparalleled support that helps you maintain your movement for a more neutral step and seamless transition. Asics takes it to an impressive level of lightness with the Dynamic DuoMax Support System that retains the superior stability without marring the weight. Hence, it's incredibly lightweight.
Overpronators can also take advantage of the Gel cushioning system on the forefoot and rearfoot which does the job to attenuate the impact on every stride. As the shoes become responsive, you can perform efficiently and also prevent running injuries. Gel Kayano 21 is also breathable and hugs your feet with a glove-like fit. Those who suffer from plantar fasciitis can also revel in comfortable and pain-free running with these superb shoes.
Pros:
Ideal fit and unparalleled support for overpronators or flat feet
Lightweight and comfortable
Provides seamless transition and helps maintain natural movement
Breathable and efficiently absorbs shock
Great support and relief for plantar fasciitis
Cons:
The toe box seems a bit narrow
Runs a bit small on size
Gel Kayano 20 may be the predecessor of Gel Kayano 21 but it does not fall short on superb features and stunning performance. These running shoes are intended for overpronators or people with flat feet and also those with neutral pronation. What stands out in these exquisite pair are the solid support and versatile fit that complies with the contours of the feet and thus provide better management with natural movement and transition.
Streamlined with multiple Asics technologies for cushioning, responsiveness, and enhanced gait efficiency, you can spruce up your footwork and running performance without worrying about the pain. Plantar fasciitis sufferers can also depend on its exceptional support. It absorbs shock very well and allows your feet to bounce back. They are durable and lightweight as well.
Pros:
Excellent support for overpronation and normal pronation
Provides efficient support and cushioning
Lends a comfortable fit for plantar fasciitis
Offers a responsive and stable ride
Lightweight and comfortable
Cons:
The toe box seems a bit narrow
Besides the fancy colors and sophisticated design, Gel Contend 4 ramps up your performance with its exceptional cushioning and comfortable fit. The patented Rearfoot and Forefoot Gel Cushioning technology allows your feet to glide smoothly and transition seamlessly.
With  adequate support and cushioning, low mileage runners or light runners can indulge in superior comfort and great fit. You won't have to break them in; they perform well right out of the box. And to ensure stability and reinforced support, it is crafted with a laminate mid cage upper. The Ortholite sock liner also keeps your feet comfortable all day. It is also removable which allows custom comfort.
Pros:
Ideal for low-mileage or light runners
Ensures stability and adequate support with the laminate mid cage upper
Features cushioning technology for a smooth transition and optimum shock absorption
Removable sock liner for a custom fit
Comfortable and lightweight
Cons:
The size and toe box feel a bit small
May not perform well on dirt trails or serious hiking
Apart from the vibrant and fun colors, the Gel Excite 4 showcases decent arch support and optimum heel cushioning that keeps up with your daily running routine. While you can also take them on your night runs or during low light hours because of their reflective materials and bright hues, they can also gear your feet up with exceptional comfort at all times.
The durability and supportive structure provide great fit and cozy feel while you run on multiple surfaces like pavements, trails, concrete roads, or even on treadmills. Moderate mileage runners and those with flat feet can benefit from its efficient shock absorption, support, and stability. And because it is well-padded, it doesn't chafe. Even those with plantar fasciitis can find relief and reliable pain management with these running shoes.
Pros:
Renders supportive structure and comfortable fit for moderate mileage runners
Suitable to use on multiple running surfaces – trail, pavement, road, treadmill
Well-padded that provides cozy fit, especially on the heels
Features reflective patterns and bright colors for low-light hours or night runs
Offers decent arch support, especially for overpronation (flat feet)
Cons:
May not provide ample room for wide feet
How To Choose The Best Asics Running Shoes
Technology
The exceptional quality of Asics running shoes marks a promising name in the shoe industry because of their powerhouse of patented technologies. They have streamlined their footwear with ample cushioning, solid support, optimum shock absorption, and other beneficial features that work together to provide excellent performance and efficient footwork.
Asics has developed impressive technology that addresses common foot issues to help runners perform in their natural movement or gait cycle. There are probably too many to mention but we'll uncover some of Asics popular technologies that are constantly utilized and commonly available on their running shoe collection.
Letting yourself be familiar with these technologies will help you choose what your ideal fit is and the features you need to elevate your performance while indulging in great comfort.
FluidRide: This technology reduces the weight of the shoe while keeping the shoe responsive. It reinforces shock absorption, allowing the shoe to handle impact efficiently on every move or transition.
DUOMAX Support System: This is the technology that overpronators or people with flat feet might need. It helps diminish the stress and pressure that are caused by overpronation and also provides sufficient support for a more comfortable ride.
Heel Clutching System: It minimizes the gap at the heel and also enhances the fit and stability while running.
FluidFit: If you need more stability and responsiveness, this technology makes it work. It focuses on the upper that is made of mesh material, and therefore, makes the shoe responsive and also elevates your running efficiency. It also provides a comfortable and custom fit.
Guidance Line: This works to minimize the imbalance and to reinforce the stability, allowing the runner to perform without straining the foot.
FluidAxis: Crafted with exceptional flex grooves on the sole, this technology enhances the flexibility and the versatility of the shoe which helps the runner move according to its pace or natural movement.
Trusstic: This technology is also responsible for stability enhancements by providing fortified soles in the middle and thus, keeps the shoe from wobbling and twisting at all times.
Type Of Running Shoes
When selecting the type of running shoes, it is vital to consider your style or manner of running, the event where you would use it, and the type of surface you usually run on. You may consider some of these questions:
Do you run on pavement, concrete roads, trails, or treadmills?
Are you planning to use it for a triathlon, speed racing, or racing?
Would you also like to use it on hiking and trail running?
Are you a heavy runner, moderate mileage runner, or a light or low mileage runner?
These are some of the questions that can help you choose your ideal pair of running shoes. But aside from these questions, you should also consider your foot type or pronation type. Asics offers a wide variety of running shoes and with proper analysis of your needs and preferences, you'll be able to find the perfect running shoes for your feet.
Arch Support
If you have significant needs according to your arch type or pronation level, you may need to look much further into the details rather than just the design and flashy colors. With the adequate arch support, you'll be able to correct your movement or gait cycle, allowing you to improve your performance and run according to your pace.
You should determine your pronation level (underpronation, neutral, overpronation, and severe overpronation) to be able to find proper running shoes that will comply with your needs. It'll also help you prevent injuries and other potential foot problems.
Comfort And Fit
The comfort and fit are always important if you want to move freely and comfortably while running. Asics utilizes a lacing system technology that provides custom and comfortable fit. The padded tongue, mesh upper, and cushioning technology also functions to keep your foot at its utmost comfort.
You may also consider the toe box if it's wide enough to make sure you'll have ample room for your toes and won't feel like squeezing in while you are running.
Design And Style
When you're done with the important details and features, you can pick out the design and style of your choice. Asics houses a vast range of vibrant and flashy hues and also neutral tones and understated design that will definitely compliment your athletic attire. If you also run during low-light hours or at night, you may consider the running shoes with reflective materials.
Frequently Asked Questions: Asics Running Shoes
1. Are there available Asics running shoes for every arch type?
Yes, there are. Asics addresses the concerns of many runners when it comes their arch type or pronation level by showcasing a wide selection of running shoes for overpronation, severe overpronation, neutral pronation, and underpronation.
2. Do they have running shoes for a triathlon, racing, or speed training?
Yes, they do. When you're up for a marathon or any of these events, Asics offers ideal pairs of running shoes that exhibit durability, adequate support, sturdy traction, optimum cushioning, and exceptional comfort and hence, help you perform efficiently and run according to your pace.
3. What are the popular Asics running shoes for trail running?
Gel Venture running shoes perform well in trail running. In our list of Asics running shoes, Gel Venture 6 is the ideal pick as it features Trail Specific Outsoles intended for trail running. Gel Venture 5 and Gel Excite 4, on the other hand, also work great on trails.
4. How do Asics running shoes stand out compared to other brands?
Just as how each shoe brand showcases unique features and technologies and so does Asics. Like we've mentioned before, Asics has incorporated science and also has developed technologies that enhance the quality of their running shoes and so to provide efficient  performance to a lot of runners across the globe.
5. How should you clean your Asics shoes?
Always use a shoe cleaner and a soft brush or cloth with your Asics shoes. Do not wash it with detergent soap that may contain harsh chemicals. Wash the surface with cold water and only a mild detergent. You should not wash it in a washing machine or dryer.
Wrapping Up
I have always been a fan of Asics shoes and have been overwhelmed with their stunning collection of running shoes. With their exceptional features and unique technologies, I know I'll be able to find the perfect fit for my feet.
When it comes to topnotch choices, the Gel Cumulus 20 has been my ideal pick for Asics men running shoes. What I like about it is the airy feeling that allows the foot to go on multiple planes and seamless foot transitions more freely and easily. Plus, it maximizes the natural movement of the foot.
When it comes to Asics running shoes for women, the Gel Venture 6 definitely stands out. I like trail running and this exquisite pair features Trail Specific Outsoles that can beat the rough terrains and trails on multiple planes like a breeze. With the padded heels and ample cushioning, these shoes have also become a great relief for my plantar fasciitis and also for other issues related to high arches. Definitely one of my ultimate favorites.
If you have also found your favorite or you're still figuring out what Asics shoes capture your needs and tastes in style, don't forget to share your thoughts with us! We'd love to hear from you!