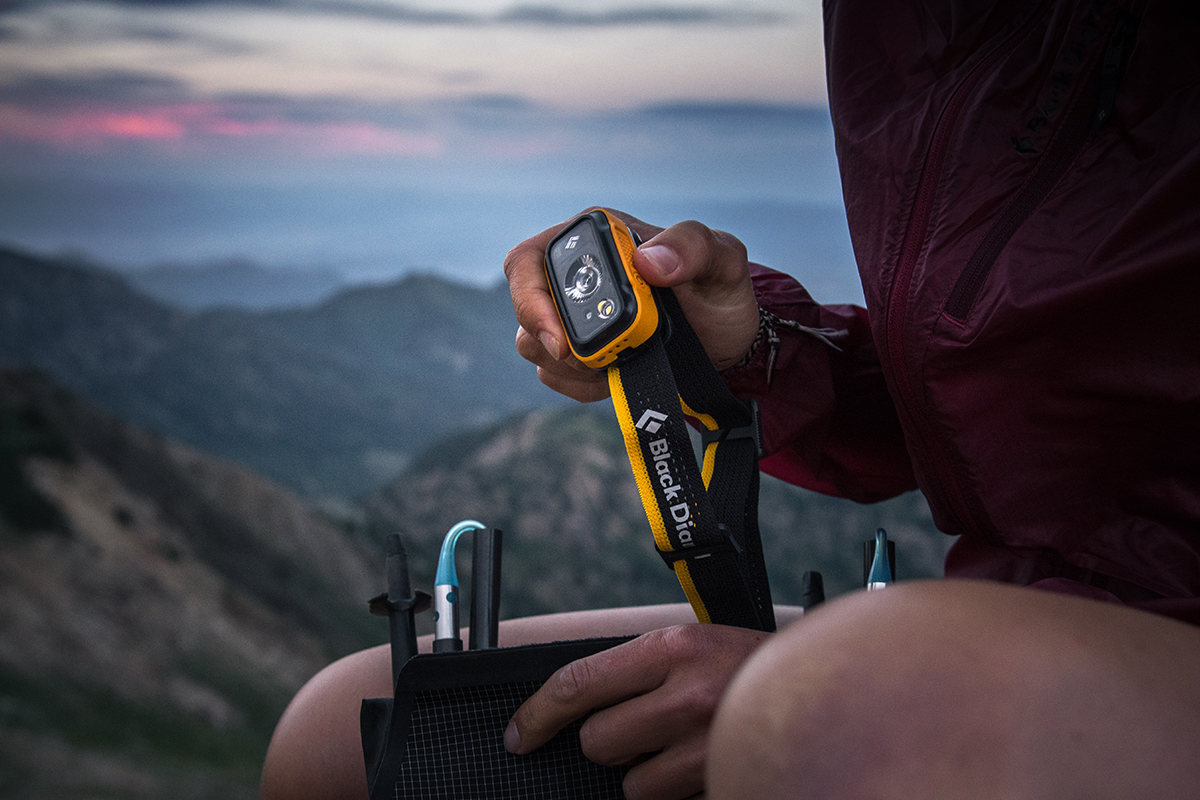 As someone who loves to run out at night, I began taking safety precautions to make sure I don't run into accidents and the like. Reflective shoes and clothes only did so much, which was why I got the best running headlamp to make my night runs better. But did you know there was so much to learn about when it came to using headlamps for running?
Even I was a bit shocked when I learned all about the different types of headlamps to choose from! So if you want to make sure that you have the best headlamp for YOU and your individual needs, read on! I'll show you my top right choices to help you out.
9 Best Running Headlamps 2022
The editor's choice belongs to the Vont Headlamp Flashlight, which has everything a runner needs to stay seen in dark conditions.
This headlamp features the bright proprietary vLED lights which light up your surrounding area, even when in total darkness, whether it's night, dusk, or in dark places. Its brightness also makes the headlamp versatile, since you can use it when running on the road, hiking up a mountain, or even camping and keeping your tent well-lit!
Ten lights also have SEVEN modes to choose from, which you can adjust with just a press of a button. Not to worry about the battery life as well, since it can last for up to 90 hours uncharged, which is way longer compared to other headlamps I reviewed.
As for its material, the lamp and its strap is made of the waterproof and drop-resistant material. It won't break easily if bumped and still stays strong during wet weather. Besides this, it's portable and lightweight, so you can bring it with you or wear it on your head comfortably for long periods until needed.
Overall, it's definitely worth the price and more, especially with its lifetime warranty.
Pros:
It comes with a lifetime warranty for better value
Seven different bright light modes to choose from
The light and strap is bright, strong, and durable
Lights up surroundings right away with a 45-degree tilt
Cons:
A bit difficult to pull the soap to make it smaller
The package doesn't include instructions
The PRETZL TIKKA Headlamp is best known for its versatility and functionality. It's not the most powerful headlamp as it emits 200 lumens, but it still shines bright, more than enough needed for my runs.
Another thing I like about it is that it has a cool design with a lot of colors to choose from. The strap is nice and secure, and when adjusted properly, you can see that it doesn't fall off and stays in place, even if I've got the sweaty forehead! It's hassle-free to use and put on as well.
Besides a quality headlamp, it also has the reflector around the straps, which makes you even more noticeable as you run. As for its light, it has a wide and uniform beam, with you being able to choose between white and/or red. As for the battery life, it's long enough and comes with three standard batteries, though you can also use a CORE rechargeable battery, which is sold separately but better for convenience and cost-efficiency.
Simple yet highly efficient, that's all I need in a headlamp. It surpasses expectations and is at the right value, which is what makes it a great buy to last for many runs.
Pros:
Has the excellent light source without the high price
The strap is easy to adjust and remove, stays in place
Cool design with a lot of colors to choose from
Cons:
The standard battery life isn't as durable, needs replacement
The headlamp uses AAA batteries and NOT AA as advertised
The Black Diamond Storm Headlamp comes at a moderate price but you get more than what you pay for. I highly appreciate the fact that it emits 350 lumens, as it has one quad power AND double power, enabling you to have even extra light. Furthermore, you can choose between various colors like red, green, and blue, which is great for night vision.
Other than the colors, it also comes with strobe and dimming settings, which activate without the need to cycle through white mode so you can adjust and expect effects immediately. It's quite responsive and transitions lighting options within milliseconds.
When in full strength, the light can be seen even from a far distance, so I'm able to see what's in front of me and remain noticeable. Besides this, I can see around me with night vision, which is such a useful option, especially when on trails.
As for its design, the solid construction is there, as the headlamp frame and its strap are made of waterproof and rustproof properties which can withstand immersion fro waters 1 meter deep for up to half an hour!
All in all, I feel like it's a worthy investment with its mix of various options, making it versatile for everyone. Furthermore, many would love its strength and power in both design and lights.
Pros:
Amazing power and strength in light and beam
Many options to choose from in light colors and brightness
It transitions fast and responses in milliseconds
Cons:
It makes an irritating buzz when switching it on
A bit heavy because it uses four AAA batteries
The Princeton Tec Remix LED Headlamp is another highly recommended choice if you're on a budget. I love the fact that it's got the lightweight and compact properties, so I can easily place it in my pack without a problem. Furthermore, it has the accessibility and ease of adjustments, from the well-placed battery door and brightness setting.
The straps and lighting construction is also water resistant and looks durable. Even during sweaty runs or rainy days, it still lights up and stays in place. As for its light, the beam is strong and you can choose between a spotlight or bright light. You can also choose between a white or red light, which is extremely helpful for both road or trail runs.
While it IS durable enough to last for runs, you have to be wary about bumping it or what, as it's more susceptible of damage when hit compared to other headlamps.
Overall, I would highly recommend it for simple and long-distance runs. If you don't need the frills and just want good light when running at night, this is a good option. Just make sure you care for it well and NOT drop it, as it isn't the most well-constructed if it goes through hard falls and accidents.
Pros:
Comes at a very affordable price with good value
Many brightness and light settings with a strong beam
Rides well when worn and stays in place as you run
Cons:
The battery door hinge is a bit fragile, more susceptible to hits
Can't be positioned to downward directions if needed
Another headlamp for Black Diamond, this is a favorite of mine because it offers the nicely-designed strap. It's comfortable still and comes with an upper strap which can prevent the headlamp from bouncing or falling. I highly appreciate it for its design and overall beam, which emits up to 200 lumens quite nicely. Furthermore, it comes with the longer battery life and the excellent beam which makes running much easier.
It uses a triple power LED light and has a strong oval beam. You can choose between a white or red taillight strobe, which offers better visibility as needed. You can also use it for up to five hours, which is great for long runs without the worry of it running out of power.
Besides these features, it also has the ultra-strength needed, such as the adjustable settings with dimming and strobe. As for the overall design itself, it's stormproof and can be used in various weather conditions, which is needed especially for those who want to run regardless of rain or sun. While it's a bit pricier than the editor's choice, I like it for its versatility and strength, making it worth the investment.
Pros:
Has a bright beam and good battery life suitable for longer runs
Has a well-designed strap to keep everything in place
Many adjustable settings for individual preference
Cons:
It takes a bit longer to adjust to the dim setting
Unable to charge and use the light at the same time
If you need something that's extra durable and sure to withstand bounces, trails, and even the most intense runs with extreme brightness, then the EdisonBright is for you. It offers the whopping 950 lumens thanks to the neutral white LED. The battery life is excellent and can last for hours, including a rechargeable Li-on battery as well as it being rechargeable via micro USB.
The dual light source is extremely easy to use, only requiring a one-switch operation. It's simple and though it doesn't come with hundreds of features, it's the simplicity that makes it worth the investment. Besides this, it's also a great purchase as it has an amazing lifespan of up to 50,000 hours, so keep on using this for years regardless of how long you use it for days.
While it's a bit heavy, it's extremely tough with its metal frame and stays on your head without it bouncing up or falling off. It's comfortable even after hours of running. All in all, a combination of good features with simplicity and strength, the only things I need in headlamps.
Pros:
The extremely durable and long-lasting lifespan of 50,000 hours
Long battery life and can be charged through micro USB cable
The headlamp is comfortable and easy to adjust and operate
Cons:
It's a bit heavier because of the metal frame
Doesn't have as many modes compared to other headlamps
The GRDE LED Headlamp is one of the strongest and solidly made ones at its price. I really admire the functionality of this one as it's very easy to power up and convenient to charge. You're able to charge using a USB cable, with its rechargeable batteries, or even through a car charger, which is included with the headlamp. Furthermore, it has an extremely long life expectancy of up to 100,000 hours! That's how many years of usage, regardless of how long and how much you use it.
It's worked on me outstandingly for the price set. Even I was shocked as to how efficient it was. Besides that, the light source can also be used for other purposes, such as a waist lamp for work or desk lamp at home. It's that versatile and makes it even more worth the investment.
Besides it is very bright, it's also zoomable and easy to adjust its modes. With three modes and good lighting for the long-term, I believe it to be a great price.
Pros:
Amazing lifespan and can emit bright beams
Versatile and can be used for other purposes
Zoomable and easy to adjust, feel comfortable
Cons:
A bit difficult to put on at first takes practice
The straps might be too short and don't stretch well
8. The Convenient and Advanced Technology: PRETZL- NAO Headlamp
The PETZL NAO headlamp is a 575 lumens light with such a modern design. I'm really amused with this headlamp because of its thinner strap, yet surprisingly, it still stays intact and doesn't move around at all. It does get a bit of time to get used to the thinness, but that's what I like about the headlamp, as it almost doesn't feel like anything especially with its lightweight body.
As for its light, it utilizes reactive lighting technology, so it adjusts automatically according to your needs. You won't have to constantly adjust wherever you run, you're able to focus more on your workout instead. Furthermore, it's rechargeable and uses the USB port or rechargeable batteries for easy charging, taking up to five hours until it's fully charged via USB.
Overall, I really love it for its advanced and doer features, as well as the excellent design it has. While it's a bit more expensive, I believe it to be worth the price and I recommend it for those who have the extra budget for the headlamp.
Pros:
Reactive lighting technology that adjusts automatically to your needs
Extremely lightweight body and feels comfortable when worn
Constant lighting that keeps light on for long periods
Cons:
Comes at a more expensive price
Best for forests and trails than road running
What I love about the Black Diamond Icon Headlamp are its effectiveness and excellent brightness! It's got everything I need for running and night hikes, as it has the powerful light that emits up to 500 lumens, as well as the excellent construction for its strap.
The light itself is amazing. It has the white LED and emits light from far areas, and you can even adjust the brightness according to how you want it. The lights even come with a memory feature where you can switch on the light at your last chosen power, making it quick and convenient to use.
As for its fit, it's super easy to adjust. All you need to do is to put it on, adjust the straps according to your liking, and you're ready to go. I appreciate the strap above the head, so it prevents the headlamp from falling while running.
However, I do wish that it had better battery life. While I understand it's shorter than usual because of its brightness, I don't want to keep bringing extra batteries in case it dies out, especially during runs and hikes over three hours long.
Despite that, I believe it to be a good purchase especially if you require something bright and with the adjustability for any run.
Pros:
It offers good adjustments with the brightness and strap
White LED light that's bright enough to light far distances
Memory feature to remember your last brightness for convenience
Cons:
The light's battery life isn't as long compared to others
Has some complaints of casing breaking easily
What Are Running Headlamps?
When I first began running during the wee hours of the morning or at night, I realized how scary it can be. Not because of any sudden attacks or whatnot (but still a small factor), but because I don't know where I'm going, even if it's in a familiar path! Sure, I know the area, but I can never seem to see any obstacles that can make me trip unless I was under the light.
Sometimes, I end up running depending on dim street lights, which is definitely NOT a good way to run. That's when I learned about headlamps, which are basically straps you clip to your head like a headband, which has lights situated on the center of your forehead to make running safer and better lit.
These running headlamps come with such huge benefits that aren't just for dark runs, which I'll be explaining all about in the next section!
The Benefits Of Using The Best Running Headlamp
Headlamps are extremely beneficial with many purposes, and with running, I'm able to stay safe and have more visual for marathons or fun night runs with friends. Having a bright light source really encouraged me to begin running during the night and even take on trails with more confidence! Here is why I love running headlamps and highly recommend that you get a running headlamp yourself:
They Are Incredibly Versatile
I love headlamps because I get my money's worth with its versatility! I don't only use it for my runs, but I love to use it when camping and hiking, or any outdoor activities I do at night or for over a day. Plus, a headlamp can make a great emergency light in case I lose power in the house.
Offer Light Wherever You Go For Safety
We all know how important light is wherever you go and whatever you do, especially during the early morning and night when it's still dark out. That's why headlamps continue to keep you safe, away from the security risk and make you aware of what's around you in case of obstacles which may cause injury.
Hands-Free and More Convenient to Put On
I need to use both hands while running, which helps me focus more on my runs than whatever I'm carrying. Rather than using a flashlight, the headlamp keeps my area well-lit without the clunkiness. No need to have to get that extra weight or worry about my light falling and damaging.
Focus More On Your Run
Because I'm not carrying anything nor do I have to worry about durability or strength, I'm able to focus more on my runs. Rather than fumbling around with flashlights or handheld light sources, I just go for my evening runs and avoid stumbling because of the strong light source.
Strong and Easy to Adjust
I like that headlamps are strong yet compact enough to fit in my pack if not needed. Furthermore, they're long-lasting and can be used anywhere regardless of where and when I run. Furthermore, they're pretty easy to adjust according to how you need it, fitting my head and anyone else's as needed.
What to Take Note Of
While headlamps are pretty beneficial and I love to use them, there are some precautions you'll need to take.
Headlamps only provide a light source for what's in front of you but not so much to the sides and around you, which can still make it a bit nerve-wracking unless you're running in high-traffic areas. Furthermore, unless it has reflective strips or you wear apparel and shoes with reflective designs, cars behind you may not detect you're there when road running.
However, these minor issues can be solved as long as you select the right headlamp suitable for your individual needs and runs.
How to Choose the Best Running Headlamp
While headlamps are beneficial and offer a host of advantages to make your runs even better, it only works well if you have the right one. With the many headlamps available, it can get quite confusing as to what you should get! That's why it's best to look into these factors to consider to help you make the right choice:
Headlamp Weight and Size
You need to make sure that the running headlamp you choose is comfortable and easy to adjust acceding to your preference and head size. With that being said, the headlamp strap should be long enough to accommodate your head size, and adjustable to make it snug according to how you want it.
Besides that, the headlamp should be lightweight. While headlamps aren't super heavy, it should be as light as possible but still, give off a bright light. That way, there's no worry about it being too heavy and uncomfortable, which can affect how you run.
The Light's Brightness
When I talk about brightness, I talk about the lumens of your light, which is classified according to how much visible light is produced. It shows how bright the light is and the distance light is cast. You can choose from 200 to 600 lumens for running, which are good enough to keep you what's in front of you well-lit. I don't recommend that you go for anything said to be over 3,000 lumens, which are just for defense.
Battery Life and Options
The battery life depends on how long you have to run for. Higher-end headlamps are able to give you a few hours of light even at maximum settings. I recommend that you find quality batteries as well, which affect its light lifespan.
Also, look into the type of batteries the headlamp uses. I recommend lithium-ion, which are rechargeable and last longer. This makes the headlamp more convenient to use as well as environment-friendly and cost-effective, as you won't have to keep repurchasing new batteries.
Beam Quality and Extra Features
Regardless of where you run, you'll need the quality beam. There are different types to choose from according to your needs, such as:
Evenly Lit Flood Beams are best for those who want to see the entire area rather than just the center, best for road runners
Strong Spotlight Beams are great if you need to focus on one particular area, which is the center. It's great for trail runners who need to focus more on what's in front of them
There's a combination of both flood and spotlight beams, which are adjustable and though expensive, work for any trail
Solid Material For Durability
Of course, you'll want to get your money's worth and invest in a headlamp that lasts for years to come. With that being said, you'll need to make sure that you invest in the proper headlamp with a quality light and straps which lasts for years regardless of where you use it. I also highly recommend that you have a waterproof headlamp in case of any weather conditions you come across when running. The strength and weatherproof qualities can also make the headlamp good for other uses.
Tips to Use and Care For Running Headlamps
Now that you're familiar with headlamps and what good they can do, what are ways to use it properly? From night running to maintaining your headlamps, here are good tips to follow:
Before you leave to your evening run, make sure that your batteries are charged and that you pack in an extra set in case it dies out. Also, prepare the headlamp and have it fit your head snugly without it being too tight. Test it out beforehand and run, tightening if it jiggles or bounces
Control the headlamp's beam according to where you run. You'll need a flooding beam when in the neighborhood to be aware of your area. As for trails outside the road, you'll want the spotlight beam to focus on what's in front of you. Prepare the light color and brightness according to your preference
I recommend that besides the light, you wear reflective clothing and shoes which ensure that you're well-noticed by passing cars and people
Start out with easy trails as you begin running at night or morning with a headlamp. The terrain looks flat and 2D at first since the light is close to your head, taking a few runs until you're used to it
Make sure to conserve battery power while running, especially during longer ones. I recommend that you use a low power setting which is still enough to light your trail
Keep your headlamp safe and away from being bumped (this goes for your head, too!). Focus more on the trail and run than other factors such as talking or listening to music
To run safely, you need to know what precautions to take and how to prepare. Here's an informative video to show you more on night running with better security:
Frequently Asked Questions: Headlamp And Running
If you want to learn more about running with headlamps and during the night, here are some of the frequently asked questions to look into:
Should I get a headlamp or flashlight when running?
Obviously, I would highly recommend a headlamp not just because of my reviews but for the following reasons:
Your hands are occupied when using a flashlight and there's the chance of it dropping and breaking. Headlamps stay secure on the head and I can run intensely without it falling.
Flashlights tire my hands even within minutes and really throw my runs off balance. Headlamps, again, are just on my head, stay there, and I won't need to adjust it or tire my hands.
How else can I keep myself safe while running at night?
Besides the tips I mentioned above, I highly recommend that you also take these safety precautions:
Always contact your family and friends as to where you'll be running and until what time
It's best to run on familiar paths and stay out of the roads, especially if you're undetected and wearing non-reflective clothing
Try to run with trusted people, running in packs can help in case of injuries or any chance of other nasty situations
Don't be afraid of the dark, as the fear can really affect your run and distract you
What should a reasonable budget be for headlamps?
Fortunately, headlamps are quite affordable and you're able to get one for under $100 and still get a quality one. However, if you have the extra bucks, you can also find headlamps that cost between $200 to $500, though I don't think there's a need to go all out!
Set a reasonable budget and know what you can afford, basing your needs from there. You don't need to get the most expensive, but avoid getting the cheapest, as you won't get the quality you need.
Can I use my running headlamp for other purposes?
That's a huge yes! I love using my headlamp as much as I can and it still stays strong despite how long I've used it for. Besides running, I like using it while camping, assembling my tent or preparing food during the dark. Some use it for other sports and workouts they do at night, too.
Plus, they're extremely handy in case of any power outages. In case the house loses power, I have my headlamp to light wherever I go and fix the generator or electric box.
My light died while running, what should I do?
If your light died as you're running, the first thing to do is to NOT panic. If you brought extra batteries, replace it immediately and resume your run. If not, then most likely you brought your phone with you, and you must use it as your light source to either complete your run or take the quickest route home or to a well-lit place.
That's why you need to make sure you charged or put on new batteries on your headlamp before using it, and to bring extra batteries in case it dies out.
Wrapping It Up
Whether it's an early morning or night run, you have to make sure you stay prepared and well-equipped. With that being said, watch out for your safety and know your trail, as well as any obstacles, with the right running headlamp to light your path. Not only does it help with seeing your trails to prevent injury, but to also decrease any security risk out there.
Out of all the running headlamps tries and tested, the best one goes to the Vont LED Headlamp Flashlight. The running headlamp is best known for its extreme and long-lasting brightness with strength to withstand intense and long-distance runs. Furthermore, it comes with a lifetime warranty, giving you more value to get what you pay for… and more!
I hope that this article on the best running headlamp helped you out. So don't wait any longer and look into any of these headlamps now!
If you have any questions or want to share your tips and experiences on any of these headlamps, comment below! Your thoughts are much appreciated.