Do you have Achilles tendonitis? Then one of the biggest parts of the body this affects is your feet, which hinders you from walking and running as properly as you did before. But not to worry! By knowing how to run properly and treating any symptoms of the condition, you'll be able to run normally and without flareups. It's also recommended to get the best running shoes for Achilles tendonitis, which help you stay comfortable and supported throughout all your runs.
But which one is the most recommended shoe for you? Read on as I show you the 12 different shoe models made for either men and women!
7 Best Men's Running Shoes for Achilles Tendonitis 2022
The Mizuno Men's Wave Rider 24 is one of the top running shoes for Achilles Tendonitis thanks to its advanced technology. It has the Mizuno WAVE, a feature unique only to Mizuno, which would disperse energy from the impact to broader areas, giving a more stable platform and better cushioning.
Furthermore, it also comes with the U4ic midsole, which reduces shock for a better ride and smoother transition as you place impact on your feet. The shoes also feature a good energy foam, increasing its responsiveness and having the springy feel to keep you pumping as you run long distances.
If your main focus is something responsive and better energy return to lessen the pain from Achilles tendonitis, this one's for you.
Pros:
Extreme responsiveness with Mizuno Wave and U41c midsole
Energy foam to help keep your feet comfortable for long rides
It offers great support to relieve pain
Cons:
Not the best for those who have low arches
May have too much cushioning for some runners
The Brooks Men's Ghost 13 is another excellent choice for its reliability. I appreciate that it's made with strong material, showing off its strength and durability to last for hundreds of miles ahead.
Besides its long-lasting features, it also has better transitions compared to its predecessors, which help you focus more on how you run rather than any discomfort around your feet. It has better cushioning, built with unique BioMoGo DNA and DNA Loft cushioning for optimum softness. The shoes don't feel too soft, nor does it feel stiff, as it's made for the shape and weight of your feet.
Overall, I recommend these shoes for its cushioning and great energy return.
Pros:
Improved transitions for better comfort and focus
Unique cushioning features that conform to your feet
Smoother and stable ride with a segmented crash pad
Cons:
The sizes may run smaller than before
Has a narrow tongue that may affect those with wide feet
The New Balance Sneakers offers very high-quality materials, made with pigskin and mesh upper that looks great as you run. It doesn't only look attractive, but they also offer the fresh foam midsole cushioning, engineered to feel light yet with more cushioning for ultra comfort in each stride.
Besides this, I appreciate that it also has a Toe Protect feature to prevent any injuries or slight pain as you hit the trails and meet with rocks, roots, or debris.
I highly recommend these shoes for trail running with its premium quality and trail-friendly features. I can see that it can last in the long run.
Pros:
Offers better comfort for the tough trails
Has more cushioning without the heavy feel
Good support that can help reduce the chances of pain
Cons:
Some complaints about receiving the wrong color
Has a bad smell at first, takes time to disappear
The ASICS Men's Gel-Kayano 25 Running Shoes are an exceptional upgrade compared to its predecessors, thanks to its new and improved Impact Guidance System Technology, which enhances your feet's natural gait from the heel strike until the toe-off. It is also well-known for its Dynamic DuoMax Support System.
Besides this, I appreciate that it has a Guidance Trusstic System Technology, which further improves gait efficiency, perfect for those who have Achilles tendonitis.
For those who have severe cases of Achilles tendonitis and require excellent and reliable support to keep their feet from further pain, encouraging better gait and posture.
Pros:
Utilizes excellent technologies for efficient gait balance
Relieves pain with improved support, reducing weight
Has an Ortholite sock liner for better rebound properties and moisture management
Cons:
Some complaints about the shoes being too noisy
Works well for a long time, but the material wears out a bit quicker
If you're looking for something more affordable but still offers good reliability, then you'll like the Under Armor Men's Charged Assert 8 Running Shoes. They are simply made yet offer the attractive look that many runners will want.
However, take note that these shoes are best made for neutral runners, as it has the balance of cushioning and flexibility with lighter weight. It's built with the lightweight mesh upper for complete breathability even during hot days, as well as the leather overlays that lock in the midfoot for stability.
Pros:
Offers better stability with its leather overlay, keeping feet in place
Comes at a very affordable price with good quality and support
Has patterned grooves that ensure a better grip on trails
Cons:
It may not be as durable compared to other models
These are best made for neutral runners only
A huge advantage with the ASICS GEL-Nimbus 17 is its style. It comes in various styles and colors suitable to your taste. Plus, despite it being a low-top foam shoe, it still offers excellent support from heel to toe. Sure, it isn't as supportive and painless as the editor's choice, but it's a significant improvement from my former running shoes!
What makes the shoes stand out is its GEL technology cushioning for excellent shock absorption, as well as the TRUSSTIC technology for better stability and reduced weight. All in all, I appreciate its features and still recommend it to anyone, especially when you need the adaptive fit for most running tracks and trails.
Pros:
The shoe comes in many different styles and colors
Feels comfortable with the latest technology to ensure a snug fit
It's made of quality materials built to last
Cons:
The frame is a bit stiffer compared to other shoes
It's not the best for brisk walkers or those focusing on speed
Last but not least in the men's section, we have the Adidas Ultraboost 20 Running Shoe. As Adidas is one of the most popular sports brands out there, it comes as no surprise that their Ultraboost is part of the list.
This is because they are made of great quality, having different design options and high-quality mesh upper. They also have solid soles and soft cushioning, making it a good balance between flexibility and comfort. What makes Adidas stand out is its energy return, which provides a great liftoff every stride and step.
If you want to focus more on speed and energy, this one is for you.
Pros:
The shoes offer high-quality sole with explosive liftoff
Made with a Continental outsole for better grip in all trails
Made with an adaptive knit to mold to your feet for natural movement
Cons:
The sole may feel too thick for some runners
Some complaints about it feeling stiff
7 Best Women's Running Shoes for Achilles Tendonitis 2022
Brooks deserves to be at the top of my list because it has everything you need in a running shoe. It comes with vast designs to choose from, whether you want dark hues or lighter ones! I'm in love with the laid-back design it has, but still turning heads as you run.
But it isn't just the cool designs and colors to commend, but its performance! When you first begin running with it, you can already feel how effective it is in terms of support. As you land on your feet, there is less discomfort from the impact. Furthermore, you can feel how smooth it is from the heel to the toe.
However, I do want to comment about the toe box area, which might not be the best for those with flat feet. Other than that, everything is great, from its lightweight construction down to the support and comfort it provides.
Pros:
Offers smooth performance from heel to toe
Amazing support for less pain from the impact
It's lightweight construction for a better feel
There are a lot of designs to choose from
Cons:
It has a smaller toe box than usual
Toes may dig into the mesh area and slip
Nike is a popular brand known for its excellent sportswear and products, with their Air Zoom Pegasus 35 running shoes being no exception. I highly appreciate its design, having a bright and durable construction with lots of colors to choose from.
These shoes offer snappy feel and performance, with a full-length zoom air unit and beveled heel work for better responsiveness. It also has the engineered mesh and Flywire cables for better stability even as you run at great speed.
It's simple and at an affordable price for a Nike product, which is a great investment for those who are loyal to Nike
Pros:
Neutral arch support to accommodate many types of runners
Strong and durable construction made for any terrain
Simple design and construction with an affordable price
Cons:
Not the softest cushioning from Nike shoes
There's not much sole flexibility compared to other shoes
The first thing you'll notice about the Mizuno Wave Rider 23 is its excellent design and more affordable price. But as I continued testing it, I felt even more benefits that made running a breeze!
This is all thanks to the excellent support and Wave cushioning it has for those who suffer from Achilles tendonitis. I feel like this isn't a running shoe only for those with the condition, but for all types of runners as well, which is another reason why I love it!
The shoe comes with the unique U4ic and U4icX technologies, giving you more responsiveness and energy return for speed and longer distances.
Pros:
Amazing stability and support for any condition
Great responsiveness with its U4icX technology
Has a lot of energy return for better performance as you run with its Wave cushioning
Cons:
There are some complaints of it wearing out after a year
Laces are a bit too stretchy and sometimes loosens up
The Hoka ONE ONE Bondi 6 isn't the most popular shoe brand out there, but it really does have it all from the design to support. It has high arch support which is great to relieve and prevent pain for those with Achilles tendonitis, and it also has a full EVA midsole, which shapes to your feet and weight, as well as offers breathability.
This makes it have a durable construction but still with the cushioned, secure fit according to your unique foot size.
The Meta-rocker technology is also commendable, with even more consistency for comfort as you run, as well as better arch support. I experienced NO pain and it did the job excellently, making it well worth the investment.
Pros:
Lessens pain amazingly and no flareups during runs
EVA midsole for a customized fit for any foot size
Very responsive cushioning and lessens discomfort from the impact
Cons:
Not the best for very hard surfaces
Heavier and bulkier than other shoes
Many women will love the Brooks Launch 6, which is made for neutral runners who prefer a slightly stiffer shoe with better responsiveness and lighter weight. It's light enough to be a race shoe for fast runs, yet it still has adequate cushioning to keep your feet comfortable during longer distances.
Another good feature about Launch 6 is its energized feel, which has better responsiveness and springiness for more of a lift every stride. This gives you more of a bounce to go faster without expending too much energy.
As for its comfort, I commend its BioMoGo DNA midsole, which is what makes the shoe springy yet comfortable. Overall, many women will love the Brooks Launch 6 and be able to overcome pain while reaching their running goals.
Pros:
High-energy return with its BioMoGo DNA midsole
It comes with minimal cushioning yet still feels comfortable
Lightweight and breathable mesh to keep your feet healthy
Cons:
You might need to order a size larger to fit better
Those with wide feet may complain about the narrow toe box
The ASICS GEL-Nimbus 22 is simple, yet it comes in excellent styles that will make you feel more confident as you run. It's got a strong and bold design that will definitely turn heads as you go! But it isn't just the design that makes it a good shoe, but the customized fit and support it brings.
It has the FlyteFoam Late Midsole Technology for extra comfort with better responsiveness. Furthermore, it features a SpevaFoam 45 for the softer heel, making your feet feel like they were running one load! And as most ASICS running shoes have, this model offers the Guidance Trusstic System Technology with Guidance Line construction, offering excellent gait balance and structure to lessen any pain felt from Achilles tendonitis
Pros:
Very strong and durable, hasn't incurred tears even after hundreds of miles
It dons a show-stealing design with solid construction
Lightweight with extra cushioning for comfort and support
Cons:
The shoe sizes run half a size bigger
These running shoes might feel a bit narrow for some
The Adidas Women's Ultraboost 20 Running Shoe deserves to be part of the list because of its attractive look and advanced features! It's got everything you need in a running shoe, and not just the colors and styles.
The Ultraboost 20 comes true to size, offering the sock-like fit with its supportive and adaptive knit, which molds to your feet to encourage better gait balance and natural movement. Furthermore, it has a stretchy and lightweight mesh for better comfort as your feet breathe easier while running. And lastly, the Ultraboost gives you the extra energy to help you go faster without spending too much energy.
Pros:
Versatile and can be used in most trails and exercises
It fits snugly and conforms to the shape of your feet
They feel comfortable and great grip to reduce accident risk
Cons:
They come at a more expensive price compared to other shoes
The shoes may be a bit narrow for those with wide feet
What Is Achilles Tendonitis?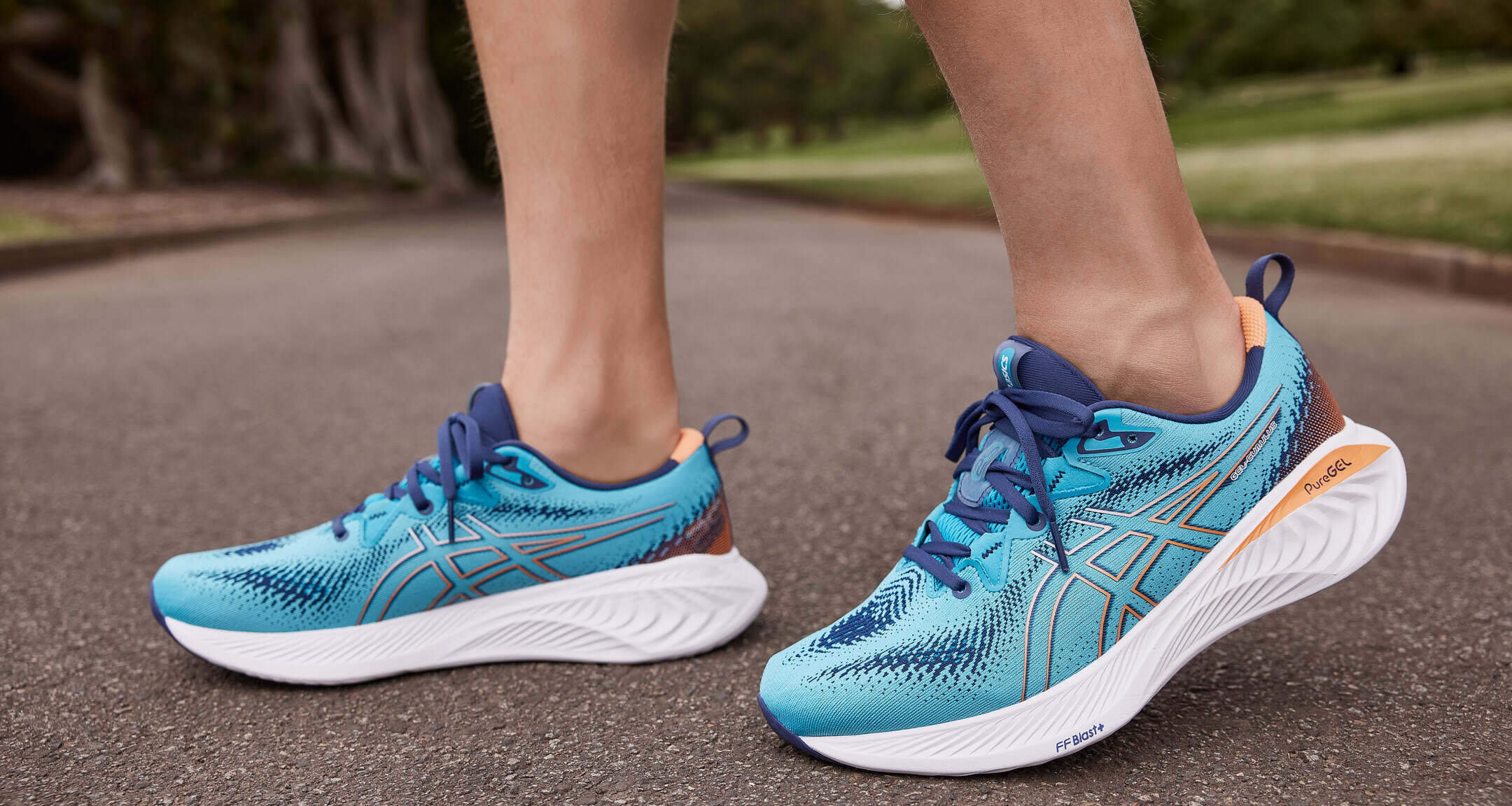 Before we get into details on running with Achilles tendonitis, let's first tackle what this condition is about!
Achilles tendonitis is actually very common in runners, as it's the overuse injury which occurs in the Achilles tendon. This is a band of tissue which connects the calf muscles from the back of your lower leg down to the heel bone.
The condition is most common with runners who increase their duration or intensity of runs, or those who play sports only a once or twice a week. It's also common for those who are older, as this tendon weakens as you age.
One of the most noticeable symptoms is the pain, starting off as mild aches around the back of your leg or above your heel after running or other sports activities. The severity of the pain grows as you continue to run, climb, or sprint. Other symptoms include stiffness or tenderness that usually occurs in the morning.
Fortunately, there are ways to treat it, which I'll get into in the next sections.
If you want to learn more about Achilles tendonitis, this is a short and informative video for more information:
The Benefits Of Using the Right Running Shoes
Achilles tendonitis requires more care and support, especially if you want to continue running! That's why it's highly recommended that you invest in the best running shoes for Achilles tendonitis. But what exactly can the right running shoes do for you?
Even I had my doubts because purchasing new running shoes would be a waste, compared to simply using my old ones. However, you'll be surprised that it has a ton of benefits to offer, such as:
Better Support For Less Pain
What I love about using the right running shoes is that it's become easier to recover from the pain! And for those with specific conditions like Achilles tendonitis, there's less pain and discomfort before, during, and after running.
With the right support, you won't have to worry about the symptoms, as it's built to have you run in comfort. This is compared to the usual running shoes that come with no arch support!
More Comfort and Breathability
Whenever I look for running shoes, I always focus on cushioning and breathable mesh (after looking at the support, of course!). This is because everyone needs comfortable shoes which are meant to keep you free from pain while having you enjoy running! After all, your feet have to breathe during that hot exercise, and you need the cushioning to relieve the impact as your feet touch the ground.
Prevents More Injuries From Happening
Besides lessening the pain from Achilles tendonitis, running shoes which come with arch support also help prevent injuries. Whether you have conditions or not, runners are susceptible to injuries, especially without the right shoes. As long as you have the right size, type, and support in your running shoes, you're less likely to experience injuries and pain in the long run.
Can Help Increase Your Performance In Running
We all know that if you don't have the right equipment and accessories, you won't be able to properly improve your performance. The same goes for running shoes! If you don't have the right pair, then you're most likely unable to improve your performance as quickly as predicted. Or worse, you won't be able to improve at all!
That's why it's important to have the right running shoes in all aspects, which have you run safer and better.
How to Choose the Best Running Shoes For Achilles Tendonitis
Owning and using the best running shoes for Achilles tendonitis is extremely beneficial, but only if you select the right ones suitable for you and your feet! This can take quite a lot of research, as there are various factors to consider. Yes, it isn't just about selecting the first popular ones you see!
With that being said, here are the factors to consider and more tips to help you make the right choices.
What's the Size and Weight
In order to get the right amount of support and comfort you need, the shoes have to be your size! Learn what your foot size is and make sure that you get the one corresponding to it, or half a size bigger. Furthermore, I recommend you get lightweight shoes, which help you run faster and with less pain as you go.
Where Are You Running?
Did you know that there are different types of running shoes based on your goals and the area you're running in? There are shoes made for prolonged running or sprinting, as well as shows made for either the road, track, or odd trails. Determine where you'll usually be running and what you want to accomplish so you're able to find the right one.
Cushioning and Ventilation
Comfort is one of the priorities here, which is why I suggest that you get running shoes with extra cushioning. This helps with the impact your feet receive as you run, lessening the pain. Also, shoes with the breathable mesh offer more ventilation for your feet, which heat up while running!
Support and Comfort
Those with Achilles tendonitis require shoes which have more arch support, as this can help lessen the pain during and after your run. So focus on shoes with the right amount of arch support or this that can accommodate orthopedics if needed. That way, there is less pressure and discomfort as you run.
Its Design and Price
The design isn't such a huge priority, though it's still nice to get shoes which match your style! Also focus on the price, ensuring that you're able to afford it. While I don't recommend that you get the most expensive one on the list, you shouldn't scrimp and get low-quality shoes that won't last or help your condition!
How to Treat and Run Properly With Achilles Tendonitis
Now that you're familiar with Achilles tendonitis and choosing the best running shoes to go with it, how can you start treating your condition? Treatment and running with the condition are still possible, and there won't be as many complications or symptoms if you follow these helpful tips:
Treating Achilles Tendonitis
Loosen the calf muscles with a foam roller. Roll over from the heel until the back of your knee, just below it
Doing calf exercises and stretches, which also loosens and lengthens the calf and your Achilles tendon. Regular calf stretches are highly recommended for all runners
Doing calf exercises and stretches, which also loosens and lengthens the calf and your Achilles tendon. Regular calf stretches are highly recommended for all runners
Don't push yourself to run when the tendons hurt. Make sure that you get your rest, and if you run, ensure you have proper rest days. It's much better to reduce your physical activity until fully recovering from the injury
During your rest days when there are flareups, elevate your foot to decrease the swelling. You can also ice the pained area to lessen the discomfort
If the symptoms worsen, then you might need to go through physical therapy (or use a brace/walking boot) and/or take anti-inflammatory medication. Some doctors may suggest that you switch to a less strenuous sport or to lessen the intensity of your runs before increasing it again
Preventing Achilles Tendonitis
Only increase your activity or intensity of any exercise by 5-10% to prevent it from overuse. Also, continue to have rest days rather than push your muscles to the limits every day, which causes injuries other than Achilles tendonitis
Walking and stretching before your run help strengthen your calves, which prevent injuries. I highly recommend the toe-raise exercise daily to keep your calves strong and lengthened
A healthy diet filled with anti-inflammatory foods helps as well! Continue to eat your natural foods like fruits and vegetables, also having equal portions of protein and fat to stay strong. It even helps with weight!
Live life with more of an active lifestyle rather than simply depending on exercise for your activity. Walk more during breaks, pursue other less intense activities, and go out rather than use up most of your day sitting. That way, your entire body has better strength and stamina to prevent such injuries
Frequently Asked Questions: Running with Achilles Tendonitis
Besides the factors to consider, what else should you know about running with Achilles Tendonitis? Here are frequently asked questions to learn more:
1. Is it still possible to run properly with Achilles Tendonitis?
Yes, you can run with Achilles Tendonitis, but you might feel slight pain and discomfort while you do run. So, while it is possible to run, the question is if you should.
But if you do choose to run with Achilles tendonitis, I'll be sharing the tips you can follow to ease the pain in the next section. It's also best that you follow our doctor for treatment and pain management, to overcome the condition and run as you did before.
2. I'm already wearing the proper shoes, why do I still feel pain?
Even when you wear the right running shoes, you might feel some pain now and then. There are various causes, such as:
You might be running too intensely, adding too much speed and/or distance to the point it strains your muscles, including the Achilles tendon. That's why it's important to take it slow, reintroducing running after you have taken a break, then adding intensity in small increments
You run with the wrong posture and suffer from gait imbalance because of it, which also affects the Achilles tendons and other muscles during the process. It's best to learn your gait and what posture is best suited for you as you run
You forget to stretch and strength train your muscles, which leads to the symptoms worsening you leave the muscles feeling strained and weak
3. Besides wearing proper running shoes, how can I run better despite having Achilles Tendonitis?
Unlike other running-related conditions, it's still possible to run with Achilles Tendonitis, and it's encouraged to do so. But you have to be wary and monitor the way your legs feel as you run, taking it slow at first, or taking breaks if you feel pain. Understand your gait to correct any imbalances as well, focusing on proper running posture.
Furthermore, consider adding strength training for your calf muscles, which will help make those muscles stronger and coordinated, protecting the Achilles tendon as you run. Also, always remember to stretch before and after running, which helps with muscle healing, as well as improve your flexibility and range of motion to prevent and recover from injuries and strains from intense runs.
4. How can I care for my running shoes properly?
Caring for your running shoes made for Achilles tendonitis is similar to cleaning any other running shoes. It's best that you have two running shoes that you switch out between runs to prevent them from wearing out quickly.
Furthermore, I recommend that you clean them by hand only, using a cleaning brush and products made for shoes only. Don't use other harsh cleaning products that may have chemicals that affect the colors and materials of the shoes. Dry the shoes properly and store them away from heat or direct sunlight.
Wrapping It Up
Having conditions like Achilles tendonitis shouldn't hinder your passion to run! As long as you invest in the running shoes and know how to treat it properly, you'll be able to continue exercising and becoming a better you. While it does take time finding the right shoes, it will be worth it in the end.
Of all the different shoes tried and tested, we believe that there are two best models, each one is for either men or women.
For men, the best running shoes are the Mizuno Wave Rider 23, which utilizes advanced technology to ensure better energy return and comfortable strides as you create impact. It also has the U4ic midsole for reduced shock and added cushioning for a smooth transition and improved ride. You've got everything you need for lesser pain to run faster and longer.
As for the women, we believe that the Brooks Women's Ghost 13 deserves to be the top, with its excellent designs and professional feel. It is extremely supportive and seems like it can lessen the pain and symptoms experienced by Achilles tendonitis. It's best to order a size larger, though, to prevent your toes feeling squished from the slightly narrower toe box.
Hopefully, this article on the best running shoes for Achilles tendonitis helped you find the right models you need. So don't wait any longer and look into any of these shoes now!
If you had any questions or want to share your tips and experiences with the best running shoes for Achilles tendonitis, then comment below. Your thoughts are much appreciated!