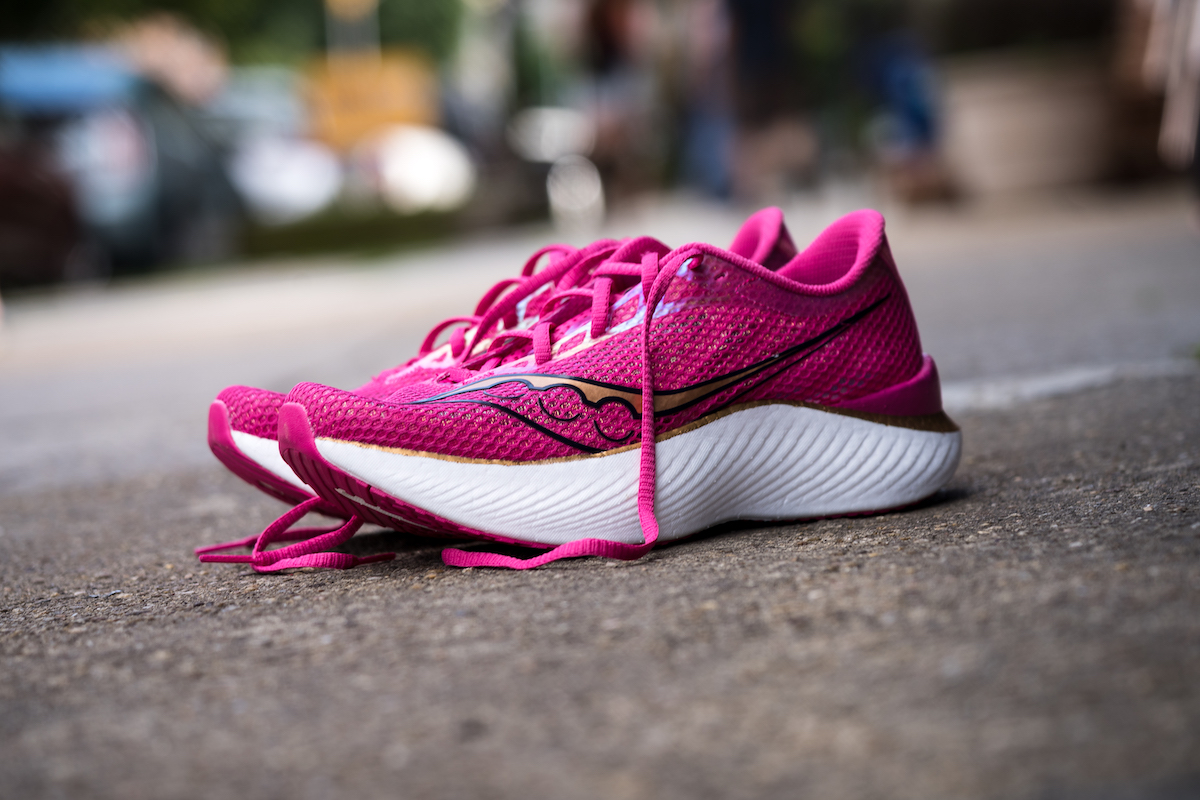 One of my problems selecting a good pair of running shoes is the brand, with the dozens of popular shoe companies out there! I decided to go for Saucony this time, known for their athletic shoes and simple yet efficient features runners can take advantage of.
But even under the Saucony brand comes many different shoe models fit for runners. Which one is the best for you and the way you run? There are so many factors to consider!
That's why I compiled the best of the best and made this purchasing guide for you. Read on as I show you the best Saucony running shoes and how to choose the suitable one.
6 Best Saucony Running Shoes for Men
The Saucony Guide ISO Road Running Shoe is my editor's choice for its sleek and purposeful design. It's made for the speed runner out for fast runs or races.
This is because it has the EVERUN topsoil and an ISOFIT dynamic upper. Besides that, those who require more support will also enjoy its medial arch support and Powerfoam midsole, ensuring more comfort and fewer risk of pain and injury. For its price, you get more than what you pay for, especially if you're a road or track runner!
Pros:
Excellent cushioning for comfort in long runs
Wraps around the feet well for medial arch support
Great for running indoors and for crosstraining
Cons:
The ISO feature has too much of a narrow feel
Thin tongue and not as firm compared to previous Saucony models
The Kinvara running shoe has an excellent fit and stays true to size, ensuring the dynamic and snug feel. Besides that, I love the sleek design the shoe has, with different bright colors to choose from for day and night running.
As for its features, this neutral running shoe has the EVERUN topsole and EVA+ midsole, ensuring both a smooth and energetic ride. The energy return is amazing, which keeps my feet bouncing without feeling fatigued. I love it best for speed runs, staying breathable even during hot days.
Pros:
Made with breathable mesh upper and durable construction
EVERUN topsole and EVA midsole for better energy return
The shoes are best for speed runs, locking your feet down
Cons:
It takes a few runs before it breaks in
Toe box might feel too narrow for some runners
Another bright and smooth shoe goes out to the Saucony Breakthru Running Shoe. It's simply designed with the engineered feature, such as the EVERUN top sole and mesh upper for better breathability. The shoes feel great and won't feel stuffy no matter how intense the run gets.
Besides this, it's very supportive, having molded heels to conform to your feet's natural shape. It offers better cushioning compared to other Saucony shoe models, making it made for long-distance. With its lightweight and durable features, I feel like they can last for over 500 miles with proper care.
Pros:
Excellent construction built for durability to last longer
Plush cushioning and molded heel support for distance runs
Super bright design that looks attractive for runners
Cons:
Not the best as work shoes feel stiff if standing all-day
Some runners may not like the overly bright colors
If you want a strong running shoe build for roads, tracks, or the treadmill, then the Saucony Cohesion is a great option. It's made with the seamless construction and grid supportive cushioning, offering the perfect balance between soft comfort and less pain or fatigue. Furthermore, it's built with durable soles, ensuring that even after daily runs, it's less likely to wear out.
I've been running with these for a few months, and as long as you alternate it with another pair of shoes, I can see it lasting for at least a year.
Pros:
Durable and made to last for road running
The toe box feels right for narrow or wide feet
Supportive and well-cushioned to lessen the risk of injuries
Cons:
Not meant for trail running, more susceptible to wear and tear
Made best for beginners, not intense runners
For those who prefer trail running or going out of the road and surpassing limits, the Saucony S20483-2 trail shoes are a suitable pair for you. They are made with the extra-rugged materials and construction, along with the grip-able soles to prevent slips.
These shoes have the usual EVERUN and ISOFIT features, but also feature the POWERFOAM midsole and POWERTRAC outsole, which is truly made for the adventurous souls. No matter where and how long I run for, I don't feel any pain or soreness during and after runs.
Pros:
It's made with excellent treads that grip to the ground well
Durable and made to last no matter the run's intensity
No pain or soreness felt, great support and cushioning
Cons:
Not water-resistant, paddings would hold to mud and water
The shoes are heavier compared to other models
I admire the Saucony Freedom ISO running shoe for its midsole and mesh material. It features the first FULL-LENGTH EVERUN midsole, so your entire foot will be well-supported and feel extra comfort for longer runs. The shoes also have the ISOFIT technology, ensuring a dynamic fit and support to keep your feet protected no matter how fast or long you run.
But do take note you have to purchase half a size larger if you have wider feet! Beyond that, I have no complaints and recommend this for runners who want something lighter for long runs at slower paces.
Pros:
Very comfortable cushioning to run longer and smoother
Comfortable on the road and made for tracks
Less pain felt around the lower body with its support
Cons:
Not the best for trail running
Need to order a size larger for wide or flat feet
6 Best Saucony Running Shoes For Women
The Omni ISO is my top Saucony running shoes for women because of durable comfort made to last for miles. It has the EVERUN topsole and a PWRFOAM midsole, ensuring that the construction is strong enough to keep you comfortable.
Furthermore, the shoes offer pressure relief, as it absorbs impact amazingly, responding well to how you run. The shoes are complete with the medial support and the ISOFIT design for the dynamic fit, made best for those who require extra support to promote their feet's natural movement.
Pros:
Great pressure relief and impact absorption, no pain felt
Amazing support to prevent pain and injuries for long runs
The perfect fit that molds to your feet's natural movement
Cons:
Need to order a size larger to prevent bruising
The shoes might feel a bit stiffer for neutral runners
Some runners require more stability for overpronation, and the Cohesion running shoe provides just that. It's built with injection-molded EVA foam and an excellent grid system to keep your feet feeling supported. Furthermore, the grid system ensures the balance of stability of cushioning, keeping your feet comfy throughout your runs.
Besides this, the shoes also feature the mesh upper and plusher collar and tongue, providing a new level of comfort. Everything stays cool as I run, and with its lightweight feel, I can run for longer without feeling discomfort.
Pros:
Very lightweight and still has extra cushioning for long runs
Wide toe box for flat feet, has accurate sizing
Offers extra stability to prevent pain and injuries
Cons:
Sensitive feet may experience a flat feel around the heels
It's not as durable compared to other models
I like the fact that Cohesion running shoes are very affordable for what it offers. It also comes with a variety of colors and designs to enjoy, which is another factor I consider when selecting running shoes.
When talking about its feel during runs, expect simpler features but still efficient for beginners or for less-intense runs. It still has grid support and good cushioning, as well as a strong rubber outsole. While it isn't the most long-lasting pair of shoes, it feels light and perfect for jogs and if you just began running.
Pros:
Very affordable price for Saucony running shoes
Has cute designs to choose from
Feels comfortable enough and still stays supportive
Cons:
Made best for beginners and lighter runs
Not as durable and lasts for fewer than 400 miles
If your main focus is something more comfortable, then you'll love the Kinvara running shoes. It's a neutral running shoe made for any runner who requires plusher cushioning, featuring the EVERUN topsole and a flexible EVA+ midsole. With both these features combined, it promotes a smoother and comfier ride with better energy return.
The mesh upper also improves one's support besides breathability, locking for your feet when increasing speed. Whether it's a long-distance or speed run, your feet are well-protected and won't feel pain as you create an impact on the ground.
Pros:
Protects feet and doesn't cause any pain
Very breathable and lightweight
Suitable for both long or fast runs
Cons:
Has a very wide toe box, not the best for narrow feet
Not as much stability because of its neutral design
While it's the predecessor of the Kinvara 10, this pair of shoes offer the best if you're into speed runs and races. It features the EVERUN topsole and EVA+ midsole, amping up the comfort level and still keeping it supportive enough to prevent injuries.
Besides this, I really love its bright and attractive colors, which can match most outfits, whether you're running or walking! I love the comfort and cushioning it provides, but take note that it's made best for shorter and faster runs than longer use.
Pros:
Responsive and lightweight conforms to your feet shape and movements
Flexible upper for better energy return and bounce
Soft cushioning to keep your feet protected from hard surfaces
Cons:
Not made for longer use, best for shorter runs
Need to order half a size up if you have wide feet
If you're looking for something smooth and well-engineered to last for the long run, then the Ride 10 is for you. It's made with the engineered mesh upper for a more lightweight and dynamic fit, whether you have narrow or wide feet. Furthermore, it features the EVERUN topsole for upgraded cushioning, making it feel even more comfortable as you run for longer durations.
I also like the fact that it comes with a TRI-FLEX outsole, making the shoe more flexible to conform to my feet's natural movement. With all this in mind, I can see why it's a great investment for long-distance runners.
Pros:
No heel slipping or gap around the ankles has the dynamic fit
Lightweight with more breathable properties
More cushioning for long-distance runs
Cons:
The shoes can't work with orthotics
Reduced heel height, so there is less support
About Saucony: Why Choose Them?
You've probably already heard of Saucony, but how much do you know about them beyond the fact they produce shoes?
This brand is known as one of the most storied brands in the sneaker industry! It was founded in 1898, with the name coming from the Saucony Creek of Pennsylvania, which is the region it was initiated.
Starting off with children's shoes, the brand continued to grow and create 1,000 sneakers a day in the early 1900s. When it was acquired by the Hyde Industry in 1968, they began creating footwear for NASA. The brand then became known in 1977 when running media discovered Saucony.
After that, the rest was history, with the company now producing various shoes made for walkers, runners, or even cross-trainers. Currently, Saucony is owned by Wolverine and they continue to create high-quality athletics shoes made of various materials.
What makes Saucony a great choice for running shoes is the fact that they cater to those with wide feet as well. They are great for those with arched feet and wide toe boxes, also known for its lightweight and durable construction.
Besides this, their shoe technologies have evolved and now come with softer cushioning and bouncier foam for its flexibility and great energy return.
Do you want to learn more about Saucony shoes and how beneficial they are? Check out this informative video:
How to Buy the Best Saucony Running Shoes
It can get confusing choosing from the man different shoes Saucony has to offer! To ensure that you only get the best for your feet and runs, here are important factors you should consider:
1. Understanding Saucony Technologies
Saucony comes with different technologies for their shoe models, each catering to different uses and needs:
ISOFIT is new upper construction for Saucony's higher-end shoes. This is an ultra-soft inner sleeve that is made with stretchable air mesh. It cradles your feet and makes your shoes more breathable
FlexFILM is a new overlay tech, with overlays melded to shoes' uppers to lessen weight and reduce the risk of blisters and irritation
Powergrid+ refers to the shoes' grid system being a perforated layer, which lessens the shock
EVERUN is another new Saucony technology, built with another layer of cushioning for better comfort and energy return
2. Different Saucony Shoe Models
Saucony has various running shoes made for all wants and needs, whether you run short or long, fast or slow. These are their popular models:
Freedom ISO is best for those who want more pillow-soft cushioning and minimal heel-to-toe drops
Triumph is for those who want even plusher cushioning for comfy long runs
Kinvara is for those who want firmer and more responsive shoes for races and speed runs
The Guide is for those who want gentle support and responsive cushioning
Liberty ISO is for those who want stable shoes with more spring to it
You should also look into the support you need and where you'll run. Consider your running style and needs, such as if you need neutral or stabler shoes, as well as if you need shoes for racing or trail runs.
3. Sizing Your Running Shoe
Purchasing the wrong running shoe size can cause running injuries and/or black toenails! Look for the following when selecting a size:
It should allow your toes to stretch, wiggle, and spread in the toe box
The heel and midfoot should still stay snug even with a bit of wiggle room
For more accurate sizes, it's best to have an expert measure your feet width and length, which you can do in a running store
Check your size by yourself by pressing your thumb on your shoes' upper toes. There needs to be about a thumbnail worth of space better the end of the shoe and the end of the longest toe
4. Support and Comfort
The chosen Saucony running shoes need to meet the following criteria:
It should be supporting your feet properly, according to your foot shape. The shoe needs to support your feet's natural movement while still supporting it enough to prevent injuries
There needs to be a bit of wiggle room, especially for those with wide or flat feet. This prevents swelling when running
The heel should be snug and supported, but without being restricted
Your shoes need to be comfortable with good cushioning, as well as springy when walking and running. This helps with your bounce and energy return as you run, encouraging longer and/or faster runs
5. Are You a Beginner?
You should also consider your running level! Regular runners will have an easier time selecting the right shoes, but if you're a beginner, it can be confusing. Because beginners are more prone to injuries, it's best that you have running shoes that fit properly and offer more cushioning and support.
Prioritize support and cushioning over style, with Saucony technologies like EVERUN being a good feature to use. As much as possible, it's best to test out the shoes and go for a short run to see if your shoes lessen the pressure and stay well-cushioned. You can find shoe analyzers online or ask help from shoe salesmen!
Frequently Asked Questions
What else is there to learn about Saucony running shoes? Here are some frequently asked questions from readers and Saucony fans worldwide:
1. How often should I replace my Saucony running shoes?
Runners will need to replace their Saucony shoes every 400 miles. However, this number varies, depending on how many miles you run weekly, where you run, as well as your comfort preferences. This is a great benefit from Saucony, compared to other brands that only last for up to 300 miles.
Some surfaces, like hot pavement during summer, can wear out running shoes quickly compared to other surfaces, such as smooth pavements under shaded areas. Besides this, if you feel uncomfortable running even before 400 miles, it may be time to retire them. Typically, you'll need to replace your shoes twice a year or so.
2. How long do Saucony running shoes last for?
Again, running shoes will last for about 400 miles, so you'll need to gauge how many miles you run weekly. For example, you run around 20 miles a week, so your shoes will last for five months. If you run fewer miles, then it can last for over six months to a year.
But professional runners, athletes, or hardcore trainers who run up to 100 miles a week, expect it to last for less than a month. Fortunately, you can extend the lifespan of your Saucony running shoes by alternating runs between two different pairs. Rotating between varying styles of Saucony running shoes is recommended as well, especially if you have different running styles that change every few days.
3. Do I need to order a size bigger from Saucony?
Many of us tend to purchase half a size larger when it comes to running shoes. This is because our feet begin to swell, or some running shoes have different size standards.
With Saucony, their running shoes typically come true to size, though there are some complaints of it being too small OR wider than others. It's best that you have your feet measured and to read customer reviews from Saucony for advice on what size to get, whether your accurate sizing or something a bit larger or smaller.
4. What if I have a preexisting condition or suffer from bad knees?
What's great about Saucony is that they offer specific shoe models that provide extra support or cushioning as needed.
The company knows that the sport can be hard on the joints, and if you have pre-existing conditions that affect the feet, Saucony offers shoe models that can accommodate orthotics or extra support prescribed by your doctor.
If you have knee pain or knee arthritis, then you'll need extra cushioning and a neutral shoe, such as the Triumph, Ride ISO, Guide, or Hurricane models from Saucony.
Wrapping It Up
You can't go wrong with Saucony running shoes! As long as you get the right one, then you'll enjoy running for miles and miles.
Of all the Saucony running shoes on the men's side, the Men's Guide ISO 2 Road Running Shoe is the best. I highly recommend it for those who need more comfort and support, as it comes with the medial arch support and EVERUN topsole. For its good cushioning and cool color designs, it's a great investment!
As for the women's the best Saucony running shoes goes to the Omni ISO 2 Running Shoe. They have a simple and sleek design with excellent features such as consistent and strong construction. Furthermore, it's known to help lessen pressure and absorb impact excellently for intense runs!
I hope that this article on the best Saucony running shoes helped you out! So don't wait any longer and select the shoe you need from this list for better runs now!
Do you have any questions or want to share your tips and experiences with any of these Saucony running shoes? Share them in the comment section below, all your thoughts are much appreciated.